Italian band Domine is returning with their fifth studio effort, Ancient Spirit Rising. Metal Covenant grasped the opportunity to find out exactly which kind of ancient spirit Domine is referring to. Moreover, we also wanted to find out what has happened to the reduced features of swords and sorcery in their music. Guitarist Enrico Paoli is the one who had to answer for the reasons and this is what he had to say.

Thomas: First of all, let me just start with saying that I really appreciate that you are taking the time to answer my questions and letting me and the readers of Metal Covenant know what's up with Domine.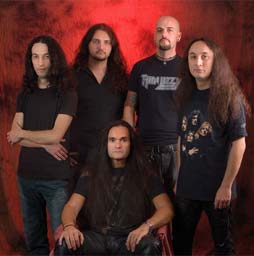 Thomas: It has been three years since the release of your previous album, Emperor Of The Black Runes. Some might say that three years is a long time to wait for a follow-up, what have you been up to during these past years?
Enrico: Yes, I agree, it's a long time, you risk to forget how to play your instrument in the meantime, ah ! ah ! It ALWAYS takes us a long time to make an album. We are not the fastest of song writers and that's mostly my fault. I like to take my time and we don't really have any deadlines to meet. We always need at least 2 years between albums. It was the same for "Emperor…". We also have to deal with foreign licenses and that's for good reasons. This album was ready in September 2006 but we had to wait to the Japanese label to release it in January 2007 and then follow them. It's a waste of time but good money for the label and for the band, so it's a positive thing. Then, when you really want to improve and change even just a few things, you need to learn different styles, work more on the songs and arrangements, and it takes time. "Ancient Spirit Rising" and also "Emperor Of The Black Runes" are not the kind of album you can write and arrange overnight. They are so full of stuff, in a few songs on "Ancient.." we filled 50 tracks of instruments and we entered the studio with all these parts ready and written. We did a long pre-production from September 2005 to March 2006. That's when we stopped gigging and we decided to work full time on the album. By the way, we have done some good live activities. We have played at Gods Of Metal Festival 2004 after "Emperor Of The Black Runes" and in 2006, just after the recording of the album. In 2004 - 2005 we have played many gigs in Italy, we supported Judas Priest, which was an amazing experience for us and a child-hood dream come true, Dream Theater, very interesting gig and different audience, we headlined a few smaller festivals like Tradate Iron Fest and Motorock. After that we started to write "Ancient Spirit Rising" and to be honest, it was a hard job. We want to improve with each album and now it's album number five, so we really had to work hard to make a better album than "Emperor Of The Black Runes". Then, when you deal with different stylistic elements, you have to learn. That's what we can do, we don't want to write the same songs over and over…if we would do like that, we could maybe do an album every year, but it would not be Domine.

Thomas: Now with the new album, what can you say about it? What is different from your last effort Emperor Of The Black Runes, any new things that you are trying out or things that you set out to do differently?

Enrico: When the guys of the band are together, we always talk about the music we love and new or old things we are listening too. When we say "let's try to put some new things into the songs", everybody started to come out with ideas. When we started to write and rehearse the songs for the album, we wanted to record the album we would like to buy and listen to, with no limit and no genre barriers. It was very simple and at the same time we set the idea to avoid some of the clichés. Don't get me wrong, we have writte songs like "defenders" and we still love Metal and that's what we can do best but we also wanted to improve our music, to broad our style a little bit, which is something we have done with every album and not to do the same album over and over. "Ancient Spirit Rising" is an HEAVY METAL album because, again, that's what we can do best, but we filled it with many other things we love and we wanted to explore. That's why you can find some elements of Hard Rock, Progressive Rock, Celtic And Acoustic Music, Classic Music, a general 70's feel and even some adult Pop Rock. If we start talking about the bands we listen to since we were kids , we can come out with a list as long as a telephone book. We are very happy about the new album, I can listen to it at home and I would have bought this album myself if it was recorded by another band. Morby usually says "I would really feel envy if some other band would have done an album like this", which is a good sign of satisfaction. We are big music fans and we started to play because of our passion for other musicians. I also think it's very boring to do the same album over and over. After a while, this attitude kills the artistic enthusiasm, unless you are AC/DC or a truly amazing song-writer. The pre-production of the album was a little better, and harder, than before. We recorded a lot of versions of the songs in our rehearsal place. The work in the studio was on the other hand pretty similar to the one we did for the previous albums. We have worked with more instruments. I've use a lot of different guitars and a amps. You can see some footage in the EPK we have in our web site.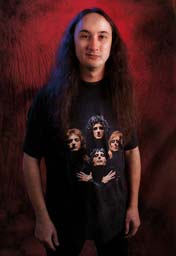 Thomas: What is the story behind the album, is it to be seen as a concept album? As I understand you have moved away a bit from the sword and sorcery with Ancient Spirit Rising, was it time to create a new approach for this album in that department?
Enrico: No, no, no concept album. We have actually never done a concept album, This album is a collection of songs. It is true that our albums sound like concept albums, because there's a unity and changes in the moods which seem to follow a story. But there's not a story that goes through the songs. I think concept albums made by Heavy Metal bands are usually very bad, very simple stories and without a real unity in music. I like concepts like "Think As A Brick" by Jethro Tull (which was a spoof of concept albums too), or "Tales From Topographic Oceans" by Yes, of "The Lamb Lies Down On Broadway" by Genesis or "Tommy" and "Quadrophenia" by The Who. In those albums there are really interesting stories or themes and the music is really like an opera, with musical themes that comes back during the songs. Heavy Metal "concept albums" are usually just 10 songs with very simple conceptual lyrics, very boring. I think it's difficult to do a real concept album. Maybe in the future, who knows ! Anyway, the themes of the lyrics of "Ancient Spirit Rising" move away from the Sword'n'Sorcery books references you find in Domine's previous albums or the usual clichés of most Heavy Metal bands. "Ancient Spirit Rising" lyrics deal with universal themes, life, death, joy and sorrow, freedom and misery, all of which are expressed in a poetic, romantic and epic style. I've always used metaphors, of course, in every album, but most of the songs of previous albums were based on specific books, like Michael Moorcock's "Elric Of Melnibonè" of Frank Herbert's "Dune". This time I wanted to avoid swords, steel, dragons and dungeons and write about personal feelings and views on life, keeping an epic feel to meet the tone of the music. Without sounding too pretentious or arrogant, I would like to follow the path of great song-writers like Tori Amos, Kate Bush or Freddie Mercury, who have written amazing songs about their own personal ideas and feelings. Most of the songs of "Ancient Spirit Rising" are like this, others have reference. "The Lady Of Shalott" is inspired by the evocative painting by W. Waterhouse and by the Alfred Tennyson poem by the same name. This album is very influenced by Victorian age art, poetry and painting. "I Stand Alone (After The Fall)" is inspired by Elric's saga, at least one was had to be the "old way". The rest is all personal thoughts. I'd love to go on with our next albums to write more personal lyrics and maybe free a few dragons and raise a few swords once again for some songs, just for the metal of it !!!!

Thomas: Where do you gather lyrical inspiration? And what kind of subjects are you dealing with in the lyrics? Are there any subjects or opinions that you feel strongly about that you like to get off you chest that you are incorporating in the lyrics?
Enrico: From many sources. I have a scrap-book where I note everything that I like. I'm a big Sword'n'Sorcery and history books fan. I also love paintings and literature, movies, poetry and, of course, music. Every thing that gives me inspiration can go into a song. In the past I used a lot of references to specifi books and authors. This time I wrote about a lot more personal themes. Everything is put into a romantic, poetic and epic style, of course, to fit the music. This album is inspired a lot by Victorian age and pre-Raphaelite art. I spend some time at the Tate Gallery in London to watch all the Waterhouse, Turner, Blake, Milais and Alma Tadema paintings. I've also visited a couple of Victorian age houses, full of fantastic paintings in London. The themes of the songs are pretty different, from Death as a changing process, immortality, problems of life, inner demons. "On The Wings Of The Firebird" is a song about inspiration and the creativity of Art. "Ancient Spirit Rising" is about following the things you love and the lack of quality in everyday's life. "How The Mighty Have Fallen" is a song about dreams and the people who inspire them. But you must read the lyrics and make up your mind for yourself, I'm not a teacher and you can not copy from your school mates ! Ah ! Ah ! Ah!
Thomas: While reading your biography this certain line about Ancient Spirit Rising caught my attention; "it is a musical and spiritual come-back", can you explain further what you mean by that?
Enrico: Yes, do you remember that wonderful feeling you feel when you come back home after some hard times ? Or when you meet something you really love after some time? Or when you think about the beautiful moments you have experienced in your past ? Well, that's fantastic, right ? Those feelings make you feel alive and give you the strength to make things during your life. It's a spiritual come back to where you belong and to the things you love. For us this album is very important. It's not just a bunch of new songs we had to do because we need to put out an album or to prove something. We are very happy with the band and the guys in the band are friends and together since 1999 with never a dull moment. So we wanted to go back to that amazing feeling of creating something we love. We did it by searching into our own personal loves in music and that's the final result and…no, we have not become hippies and we are not taking any drug…Ah ! Ah ! Ah !
Thomas: What are your hope and expectations on Ancient Spirit Rising? Or are you by now just eager to get out on the road to see how the songs work live?
Enrico: Well, we would love to play everywhere and we would like people to check our album out and we hope they will enjoy it. We are planning to do an Italian tour this month and we hope we can play some festivals this summer. We are very happy the album was album of the month in all the five Italian Metal magazines, we got 2 covers and we even charted in the Italian chart. We were the only Metal album in top 100. Of course, we would love to become superstars, sell millions of cds and tour the world with a live show like Kiss !!!!!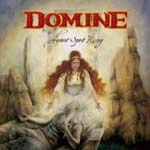 Thomas: What is the concept behind the album cover? The character that has been on all your albums is still present but lying and seems to be dying in the arms of someone that is reminding of Galadriel from Lord Of The Rings, what is the though behind that?
Enrico: The cover was inspired by "The Lady Of Shalott" painting, like the song by the same name, and it's in that way to combine with the general album atmosphere. We wanted a cover which was a little more "spiritual", "romantic" and more "classic" and less aggressive than previous albums. We have always use the character of Elric Of Melnibonè in our covers. I love that character and it's very difficult for me to let him go. So, I choose to put him into a different setting. It reflect the attitude of the album, it's still an Heavy Metal cd, it's still Domine, but a little different. "The Lady Of Shalott" is a song about death and immortality, it doesn't have anything related to "The Lord Of The Rings". "The Lady Of Shalott" is a legend taken from the Camelot saga. It was a source of inspiration for many Victorian age and pre-Raphaelite artists, in paintings and poetry. Alfred Tennyson wrote a wonderful poem about the myth. It's the story of a woman who dies, stricken by a curse, very melodramatic. The painting by William Waterhouse is amazing, you can see in at the Tate Gallery in London. I even got in contact with the museum to get the rights to use the image for the cover of the album, but then I preferred to use an original painting because you can not get an exclusivity for such a work of art and I don't want to have a cover that some one else can use in the future too, like happened for the "Ophelia" painting by Milais, another Victorian age painter. These artists took legends and myths of the past to create new work of arts, in a very evocative way. That's exactly what I wanted to do with this album and with these lyrics. Create some actual music, like metal, relating to ancient myths and personal feelings. I found it very interesting to explore. "The Lady Of Shalott" became a way to write a song about death, change of life form and the creation of a new future. Death is a change of state and changing is part of life. Again, you can relate this also to our musical attitude too. So, you can see there's more personal thoughts than just sword, blood and fire.
Thomas: The line-up has been steady in the band for quite some time now, no changes done with the last three albums. In a time when it is more and more common to see musicians swap bands very easily, how have you guys manage to hold together, and how important has that been for the development of Domine?
Enrico: Because we are friends. We really are and we are happy with the music we play. Everybody in the band has his own space in our music and this album is really a band effort. We are not stupid kids who blame the others because we don't become superstars like Metallica overnight. It's important to love and find enthusiasm in your music, otherwise there are so many great things to do in life, especially in Italy, like girls watching….
Thomas: Who writes the songs in the band? Is there anyone that is to be seen as the creative force behind the band or does all in the band chip in with material to the songs?
Enrico: I do all the dirty job ! But of course, it's just the beginning of the writing process. I bring the basic tracks and melodies of the songs and the whole band works on them. In the end it's really a band effort and I think it shows. This album took me a lot of work, that's why I told you I'm the responsible for the gap between albums. I usually work alone in my house and record very rough demos, with a rhythm and all the melodies done with guitars. Then I bring the demos to the other guys and everybody starts to throw ideas in. At the same time, I work with singer Morby to put down all the vocal lines and then lyrics. When a song is pretty much set up, we start to rehearse it in our place and record various versions. We change things up and improve the songs until we are happy with the result.
Thomas: This is your fifth album, and you seem to be growing in popularity for every album that you release. Is that something you feel as well and why do you think that more and more people is discovering and embracing Domine?
Enrico: Well, this is true just in part. We are not a huge band, we are not so popular. I guess everybody who knows the Metal scene knows the band, but we can't pretend to be big. It would be ridiculous. With every album we improve and get new fans. Some of the old ones are lost in the way and that's the way things go in the music business. I hope people can understand we are a real band which believe in the music we play and respect us. Not everybody does that, of course…but I can't really complain. I'm happy I'm still playing my music and get in touch with great people. If somebody would have told me in 1983 when I started to play that I would have played with Priest, Maiden, Manowar, Dream Theater and all those great bands, I would have advised him to give up drinking, ah ! ah ! ah!
Thomas: The album is on the Italian album chart, how common is it that a metal band appears on the charts in Italy?
Enrico: No, as I told you we were the only Metal band in top 100. In Italy, the music market is small and the Metal market is just a niche. There are some great Metal bands in Italy but the scene is very small. I was very surprised to enter the chart. It also happened in 1999 to "Dragonlord".
Thomas: If someone says that you are an Italian power metal band, comparisons to Rhapsody pops up before you finds time to say anything further, but from what I have heard of the new album your sound is closer to the German power metal, but with some of the typical Italian sense for melodies. Exactly how tired are you of being wrongly compared with Rhapsody and where would you describe the sound of Domine to be musically?
Enrico: I think it's unfair to write a review without listening to an album. Some critics (what a bad word!) thinks we are just like Rhapsody because the best they can think is : Italians + Epic Metal + warrior on the cover = Rhapsody. I understand we are not that famous, so they don't know we are around since 1986, but sometimes writers don't really care what they write about. They probably have 100 cds to review and the managing director is kicking their asses to meet the deadline. So they just do that stupid calculation. Again, it's part of the game, I should not complain. We are more German in your opinion? Really ? I don't think so. I think Rhapsody have a lot of that Helloween vibe, don't you think…yeah, that's also something that I don't understand : it was German bands who invented that kinds of melodic Speed Metal and now German writers are trying to say the Italian style is like that…strange… I see Domine in a more classic Heavy Metal setting and vibe, I don't really care about labels like I used in the past. I was proud to feel like an Epic Metal band, then some people complained because our albums have a good sound and production, so we can not be True Metal, because that's must be recorded like shit and have a singer which goes out of tune….I don't know, some people are strange, thank God they are not insane like that. We have broaded our sound with every album. We were more US metal and NWOBHM in the beginning, then we incorporated different things and influences, also some German speed, I agree with that, but the vibe and melodies are different. The new album is, in my opinion, much more English and classic Metal, even more Hard Rock and Prog, so….. But, you know, everybody hear different things in an album. It's a matter of taste and points of view. Sometimes we write and speak about music too much. It's a form of Art which should be listened with your ears and…as long as you like it, I don't really care, ah ! ah !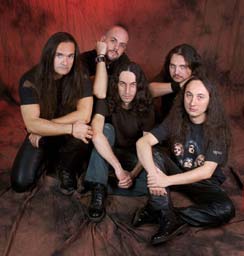 Thomas: Where do you gather musical inspiration, when I look at the top friends at your Myspace site I find Kate Bush and Tori Amos among others to be there, not perhaps what one could expect to find at metal band. Is this kind of music also an inspiration for you, and if so, how do you think that reflects in the music?
Enrico: I love Kate Bush, Tori Amos and song-writers like that. They can really put themselves into their own songs. Why should not be the same with Metal musicians ? As long as music is real and not plastic, for me it's good. Some Metal bands are really fake and musically ignorant too, not all the metal bands are true or real or good musicians. Don't get me wrong, I love Metal !!!! I'm a metal-head, but there's so much GREAT MUSIC around. You just have to open your ears and find the one you like. I have more than 5000 cds at home and one do not exclude the other. They can stay in the same rack and I can listen to what I want. I also love people like Rufus Wainwright, Elton John, Billy Joel, Bob Seger, Bob Dylan, Nick Drake, Elliott Smith. I wish I could be a great song-writer like them….
Thomas: How does the future look concerning touring, any plans made yet? And what would you like a tour to be, as headliners or as special guest to a band that is more established and has a bigger following of fans?
Enrico: We will do an Italian tour this month and we are trying to jump on a few summer festivals. We would love to tour everywhere but, man ! things are difficult for a band like us. We are noy a big band who can fill arenas. We would love to play as a support in an European tour for a big band or along with more bands like us, but that's seem very very very difficult. I guess we are going through some hard time. Agencies ask you for amazing money to get on a tour and I can't sell my house…ah ! ah ! ah! But you can ask your local agencies to make us play. We'll fly tomorrow !!!! Ah, and please, some flash-bombs like Kiss….
Thomas: Any festivals lined up for this summer? What festivals are confirmed and are there any further in negotiations? Can you give us a hint on what is about to come?
Enrico: Nothing confirmed, I'm afraid. I'm keeping my fingers crossed. Can't do Gods Of Metal again this year. We have already played there 4 times. We would love to play again in Wacken, of course.
Thomas: And to round this off I would only like to say a big thank you for taking the time to share this with us, and if there is anything more you would like to add or share with the readers of Metal Covenant, feel free to use this last space as you like…
Enrico: THANK YOU THANK YOU THANK YOU for YOUR time and space. We invite the readers to check our web-site at www.dominetruemetal.com and our My Space page at www.myspace.com/domineofficial. We hope you enjoy "Ancient Spirit Rising" and we hope to come to play for you guys sometime soon. All the best for your web page, just let your spirit rise. CIAO !!!!!!!!!!!!!!!!!!!! /Enrico

Thomas: That will be all that I have for now. Thank you for bringing your metal to us and Metal Covenant wish you all the best for what the future has in store for Domine. Keep it heavy.

See also: review of the album Ancient Spirit Rising


See also: interview with Enrico Paoli 2004
Related links:
www.dominetruemetal.com
www.myspace.com/domineofficial