Domine is a band hailing from Italy, and have been around for an odd twenty years by now. They have just recently released their 4th fulllength album which have received overall good grades in the world wide metal press. We got the opportunity to place guitarist/mainman Enrico Paoli in the interrogation chair for a while, and the following is what turned out of it. A thorough and indepth overview of the bands way of working and thinking, and the past, present and future..........

Tommy: Your new album, Emperor Of The Black Runes, has just recently been released, and it continues in good, recognisable Domine style. What can you tell us about the work on the album? How do you feel about the ready result? Do you feel that you managed to fulfill the vision you had about the album before you started working on it?
Enrico: Yes, it's better than we thought ! We still love our previous album "Stormbringer Ruler" a lot, but also this time we managed to make a better album. It was not easy because our previous album has very good songs and a great production. The new album is another piece of Epic Power Metal in our own style. If you liked our previous albums you are going to love this one better ! We are very happy with the result, it's a good mix of long Epic Metal songs and fast Power Metal tracks. We have improved the sound again, and we have work more on the arrangments than previous albums. In our opinion "Emperor Of The Black Runes" is another step forward for Domine, were we are pushing the limits of the band's style with a good balance of fast, classic heavy metal songs and long EPIC tracks. We wrote songs in the style we love, putting a better effort in production and arrangements, making the new songs traditional and exciting at the same time. The new cd shows Domine playing songs in our own Epic Power Metal style but with a few injections of Prog Rock, Hard Rock, Celtic and acoustic music.

The songs are really aggressive when they are heavy and fast and atmospheric when they are more melodic or acoustic. We have a few powerful speed metal assaults like opener "Battle Gods (Of The Universe)" and "True Believer", which are the most "live" sounding songs with a crushing and aggressive sound, while songs like "Arioch, The Chaos Star" and "The Song Of The Swords" follow the classic 80's metal tradition of Judas Priest Priest and Iron Maiden. "The Aquilonia Suite" is an 11 minutes titanic "tour de force" based on the "Conan The Barbarian" books by R.E. Howard and on the movie soundtrack by Basil Poledouris. More Epic Metal mixed with Celtic harmonies comes back in ultra Epic "The Sun Of The New Season" and in the all-acoustic track "The Forest Of Light", a track which shows Domine's appreciation of Jethro Tull, Genesis, Loreena McKennitt and Irish folk music. A fair amount of melody shows up in "Prince In The Scarlet Robe" (based on the Corum books by Michael Moorcock) and "Icarus Ascending" with some hints of Hard Rock (Kansas, Queen). You can tell there's a good variety of sounds. I hope you like it too.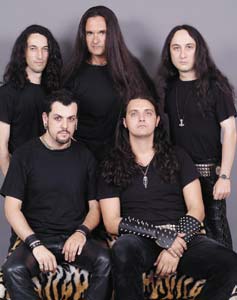 Tommy: In what words would you yourself describe the music and moods of Domine for someone that has not heard you yet?
Enrico: We are an Heavy Metal band. Our style is rooted into the classic Metal of the 80s, especially the NWOBHM and the EPIC METAL bands. We've always been huge fans of Iron Maiden, Judas Priest, Manowar, Angel Witch, Virgin Steele, Warlord, Saxon, Savage Grace, Queensryche, Helstar, Tygers Of Pan Tang, Diamond Head and many others. We also love some Prog and Hard rock bands like Queen, Kansas, Thin Lizzy, Black Sabbath, Genesis, Jethro Tull. If you like those kind of band you might be interested in our style. When we did our first demo in 1986, we got our first review and people was referring to our style as Epic Power Metal, and that's fine with me. We really love to work on atmospheres and have a kind of dramatic and epic tone and our lyrics and covers are influenced by Sword'n'Sorcery litterature.

Tommy: What is the reason for you being almost invisible on the metalscene for a long, long time? Your previous website was hardly updated, no news were released, and than the news about a new album suddenly popped up recently from seemingly nowhere? Was it all planned to keep a bit away from the public to work in peace, or....?

Enrico: You are right ! We didn't really put too much attention in the web site in the past. Now things are changing, we got our own address www.dominetruemetal.com and we have a new web master and she's updating it. We are not big internet freaks, to be honest. As for the wait, it always took a least a couple of years between all our releases. We are not that fast to write a new album and to make good things it takes some time. This time the wait was also a bit longer for a good reason. We were ready to put out the album in October but then we got the attention of a good Japanese label and they did a very good offer to license the album. They wanted to put the cd out before everybody and they wanted to release it in late November. We could not release the album in Europe during the Christmass holidays so we had to delay the promotion and pre-sale start in January and release the album in February.

I must say that, even if we had to wait for the European release, I'm really happy with the work in Japan. This time we had better promotional results and more support from the label. This is pretty usual, also our previous albums were released in Japan first and they have a bonus track too. This time we recorded a cover of Riot's classic "Altar Of The King", from the amazing "Fire Down Under" album. Then after the release of "Stormbringer Ruler" we did a lot of important gigs like Gods Of Metal 2002, Wacken Open Air Festival 2002, Heineken Jamming Festival 2003 with Iron Maiden. We kept us busy and….time flies !

Tommy: The comparision with Rhapsody is constantly hanging over not only you, but every band that are the least bit epic and symphonic, and are coming from Italy. What do you think about that and all the questions you might get about it? Do you think that it's wrong or is it a bit flattering perhaps? Furthermore, what do you think about the fact that Rhapsody has gotten all this attention over the years, while you have ended up a little in the shadow of the giants even though you have been around almost as long them?
Enrico: No, this is not true. Everybody who knows the band has always point out a big difference between Domine and Rhapsody, especially in Italy where we are a well known band by metal kids and they saw us live and releasing demos and cds. We have been around for a long time and our roots and style are different. But I think Rhapsody is a great band and Fabio is a great guy. They are much more symphonic and we are more classic Metal. We use keyboards as a kind of second guitar, they are never up front like they do. Sometimes in Rhapsody's songs the band stops and an orchestra starts playing. I think that's great but we don't do that. We are much more guitar orientated, that's what we are good at and always been doing for all this time. We have something in common, of course, we both listen to Manowar a lot ! We got some reviews that put us in the same league of Rhapsody by people who started listening to Heavy Metal 4-5 years ago with Stratovarius and Hammerfall and know nothing about the original Heavy Metal bands and sound or about the underground scene. They just see an Italian band with a warrior on the cover, heroic fantasy lyrics and they automatically suppose we are like Rhapsody. Some "journalists" are really lazy or really ignorant, they know nothing about 40 years of rock history and they related everything to the 10-20 bands they happened to know in the last few years. Some times I'm asked about the "concept of the new album" when we have never done one, they don't even read the lyrics.

So, I can say I like Rhapsody and respect them but we are a different band. Then Rhapsody were good enough to attract a German label and management and they became internationally successful. They really do not represent the Italian scene, and that's good for them because they avoided a lot of problems and they can be successful and tour the world! We have always been an Italian band struggling to play Metal in Italy where the scene is just totally underground. A lot of foreign people are thinking there's a big Heavy Metal scene in Italy but this is no true. But we learned the rules and kept of playing no matter what.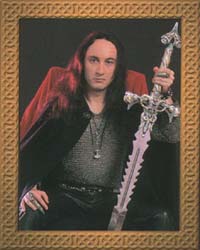 Tommy: What kind of music and what bands are your main influences nowadays? Is it mainly from the traditional metal scene, or are you looking elsewhere for elements to implement in your creations?
Enrico: When I answer this question I usually write a very long list of bands. I have 5000 cds at home. I listen to a lot of Heavy Metal but also to other stuff, like Hard Rock, Progressive Rock, AOR, classical music, folk/celtic stuff, movie soundtracks and even some pop music and jazz. I still listen to Manowar, Iron Maiden, Judas Priest, Saxon, Queensryche, Virgin Steele, Savatage, Riot and more underground metal bands like Warlord, Savage Grace, Angel Witch, Cirith Ungol, Manilla Road, Omen, Helstar, Griffin, Heavy Load, Tygers Of Pan Tang, but to be honest I mostly listen to Queen, Thin Lizzy, Kansas, Jethro Tull, Black Sabbath, Rainbow, Horslips, Gary Moore, Kiss, Genesis, UFO, Kate Bush, Led Zeppelin, Angel, Survivor, Mountain, Boston, Grand Funk Railroad, Styx, Rush, Rory Gallagher, Tori Amos, The Who, Spock's Beard, Planxty, Emerson Lake And Palmer, Uriah Heep. This may sounds unfamiliar for you, I also listen to Italian progressive rock bands, like Banco del Mutuo Soccorso, Premiata Forneria Marconi, Area, Osanna, Balletto di Bronzo, Biglietto per l' Inferno, Metamorfosi, Goblin. I better stop now because if I keep on thinking about bands, I'll write 100 more.
Tommy: Who is the main composer in the band? How do you usually work in the band when it is time for composing and recordings?
Enrico: I'm the main writer. I guess it's the same in every band, there's always someone who has a full vision of the band's music and starts the writing/composing process and follows all the details step by step. Then, of course, it's always up to the rest of the band members to work on the songs and make them real. When I write a song, I usually do a very rough demo with all the riffs and basic tracks and melodies. Then the band goes in our rehearsal place and start playing it, putting out ideas and changing, adding or taking off parts. Me and Morby, the singer, work on the vocal lines together and then I write lyrics which fit them. In the end, it's a band effort even if I'm the main starter.

We are a very traditional Heavy Metal band, we play together and write songs, and we are not that familiar with computers and editing programs. Lyrics are more my "trip", even if everybody in the band is also a fan of the same books and movies. My brother Riccardo, the bass player, was the one who started to bring home the Heroic Fantasy books, when we were kids. The actual line-up of Domine is together now since 1999 and we are all happy with the way our music goes, so far, so good !
Tommy: Where do the inspiration for the lyrics come from? Books, movies (in that case, which ones?) or just pure imagination?
Enrico: I'm a huge Heroic Fantasy and Sword'n'Sorcery litterature fan, I love writers like Micheal Moorcock, Robert E.Howard, Paul Anderson, Frank Herbert, Gene Wolf, Ursula LeGuin, Tanith Lee, Clive Barker, H.P.Lovecraft, and J.R.R. Tolkyen, of course. I've been into this kind of readings since I was a kid, even much longer before I actually discovered Metal music. I guess I was attracted to Metal music because I saw it had lyrics about those kind of stories and epic atmospheres. I have read 100s of books. My brother Riccardo was the one who brought home books like "The Lord Of The Rings" and "The Sword Of Shannara" when we were kids. When I discovered Micheal Moorcock and the Elric Of Melnibonè saga, it totally freaked me out. I became an addicted to Micheal Moorcock's book. I have a lot of his books, he wrote many great novels, not just the Elric books, but also the Corum saga, the Hawkmoon books, the Eternal Champion books and many science fiction novels. He's my fave writer and I had to buy a lot of books in original language because they are not published in Italy. I also love the Dune saga by Frank Herbert and the H.P.Lovecraft stories. These are my fave books. I'm a collector of Art books too. I love all those great fantasy illustrators like Micheal Whelan, Frank Frazetta, Chris Achilleos, Boris Vallejo, Brom, Rodney Matthews but also classic painters like Caravaggio, Leonardo, Michelangelo neoclassic artists, Victorian painters like Gustav Dorè, Whitehouse, Rembrandt and many others.

I'm also a huge movie fan. I have a big dvd collection and I've been trading tapes for a long time. I'm a lot into horror, splatter, action, martial arts, art-house, sword'n'sorcery, cult and b-movies in general. So, many sources of inspiration beside music. The songs on this album has a lot of different themes. "The Aquilonia Suite" is based on the "Conan The Barbarian" books by R.E. Howard. "Battle Gods" and "Overture Mortale" are, musically inspired by a theme from W.A.Mozart's "Don Juan", while on the lyric side, it's inspired by a Chinese sword'n'sorcery movie called "Legend Of Zu". Very Epic. "Arioch, The Chaos Star" is lyrically loosely based on the Michael Moorcock's books, but I took a chance to put something personal, rtalking about universal evil. Same thing "Icarus Ascending". I started from the myth of Icarus to write about freedom, in a personal way. "The Prince In The Scarlet Robe" is based on the Corum saga by Michael Moorcock. It has the subtitle "The Three Who Are One part I" so I can write about other characters in future songs. "The Song Of The Sword" is again based on the Elric of Melnibonè books, in particular on the first book of the saga. "The Sun Of The New Season" is Epic and melancholic, with a lot of Celtic harmonies and it's a song about hope for the future. "True Believer" is another very personal lyrics, dedicated to everybody who spend his life believing in something, whatever it may be. The cd ends with "The Forest Of Light", an all-acoustic song that was a kind of experiment for us. The lyrics are about a kind of calm after the storm, another song of hope for the future and very loosely inspired by the theme of Tanelorn, the city of peace, from the Moorcock books. So, this time is not just fantasy stuff, there are a lot of personal things disguised as metaphors.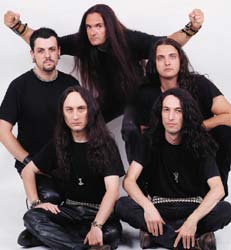 Tommy: What do you think is the reason for the fact that Italian metal have grown stronger and stronger in a relatively short period of time? Just 8-10 years ago, you had hardly heard about an Italian band, and now there a big base of established band and you have all showed that you are great musicians. Why such a late entrance on the metalscene?
Enrico: As I told you before the Metal scene is still really underground in Italy. If you look at the Italian charts, you will hardly find Metallica, Iron Maiden and Bon Jovy, that's it. With "Dragonlord", our second album, we entered the chart for one week only at number 98 and it was unbelievable. The main reason is there's no Heavy Metal in the big and important medias, MTV is just ridiculous. So, it's only up to the most dedicated bands and a few labels to work on Heavy Metal music and go on no matter what happens. Domine is doing well in Italy, thanks to some very good magazines that support Italian bands and to some kids who follow bands and support them. We have 3 magazine covers for this new album. We were also offered some good gigs like Gods Of Metal and Heineken Jamming Festival. There are some good bands that go on working hard but there's hardly a scene that can be called like that.

Anyway, we had been through the scene in the 80s and 90s and those years were even more difficult. To be honest with you, I don't see that many bands around anyway. A lot of Italian bands release a cd but they never play live, whatever the style they play. Maybe a few years ago there were some bands which thought they could become like Rhapsody overnight but they all faced reality and most of them are not around anymore. I don't know, maybe there's more work to do.
Tommy: How big and known are you really in your homecountry? I saw a clip of you performing at the Gods Of Metal 2002 in Italy in front of thousands and thousands of cheering fans singing along. It was a great sight, but I doubt that the situation would be the same in the regions of northern Europe, simply and sadly because of the fact that you are not yet so well known up here.
Enrico: Yes, you are right. Well, actually that clip was at Gods Of Metal 2000, the first time we played there. We are an established band in Italy but we are not a big band. As I told you before, we have three covers for this new album, we are respected by the metal fans and we have played some great festivals in Italy, Heineken was 40.000 people but our position is different in foreign countries. Fans of the classic Heavy Metal style who don't buy just Iron Maiden or Metallica know Domine and our cds have been licensed, printed and released in domestic versions in Japan, USA, Brazil, Russia, Taiwan and Mexico but we are an underground band. We did a European tour in 2000 with Riot, Anvil and Agent Steel, we have played in Greece where we have a cool fan base and we have played at Wacken 2002 with good results in all those experiences. I think it's natural, there are so many bands around and you get to know a band better when you see it live. So, invite us and we will come to play for you guys !!!
Tommy: How do the plans for Domine look after the release of the new album. Any longer tours planned? Are you playing places you haven't before the coming summer? Any dreamplace or country you would really love to play?
Enrico: We are now dealing with a new booking agency. We are checking if there's any chance to jump on a European our as support band in September. We have a couple of chances but still no confirmation. Things are so difficult nowdays, there are not many tours anymore and there are a lot of good bands which want to be part of them. We have already planned some gigs in Italy during April and we will be back to play in Greece in March. We are also planning to play on a few summer festivals and maybe do more gigs with other Italian bands. We would LOVE to go to play everywhere ! Personally I would love to play in far countries, like Japan or USA.
Tommy: I thank you very much for participating in this interview and sharing this information and your thoughts with us - these last lines are entirely for you. Any final words you would like to round off with - a tip, a recommendation or a thought for the future?
Enrico: I just want to thank you for your time and interest and I invite all the classic Heavy Metal to check out our new album and I hope they will enjoy it as much as we do. CIAO!!!

That was all I had for now, Enrico - the staff at metalcovenant.com wish you all the very best for the future, and we sincerely want to thank you for keeping the spirit of Metal alive!

Related links: