Wuthering Heights - The Shadow Cabinet

*=Staff's pick

Demon Desire
Beautifool*
The Raven
Faith - Apathy Divine Part I*
Envy
Snow - Apathy Divine Part II
Sleep
I Shall Not Yield*
Reason ... ?
Carpe Noctem - Seize The Night*
+
Shadow Of A Gipsy (japanese bonus-track)
Midnight Song (european bonus-track)
Roaming Far From Home - Live (USA bonus-disc)
Genre
Heavy Metal

Patrik Johansson

Vocals

Tracks
11

Erik Ravn

Guitar

Runningtime
60 Min.

Martin Arendal

Guitar

Label
Locomotive Music

Teddy Möller

Bass

Release
27 Oct. 2006

Morten G. Sørensen

Drums

Country
Denmark/Sweden

Andreas Lindahl

Keyboards

Similar artists
---

After two anonymous and mediocre albums, Within (1999) and To Travel For Evermore (2002), danish band Wuthering Heigths certainly hit the jackpot with the album Far From A Madding Crowd (2004) which is one of few albums that I have given the top rate 10/10 on this site and I still stand behind that grade to this day. My anticipation on this album were of course set sky high but at the same time I tried to keep it relistic and could not really hope that they could surpass the last effort or even reach the same level. But, dear readers, I kid you not when I say that this album is even better than the previous one, and that in all aspects. How am I now going to set a grade on this album, you might ask? Keep reading and you will see how I have chosen to solve this dilemma.

Everything on this album, in all areas, have since the last album swelled out and expanded and every development is to the better. It is a bigger and mightier sound landscape, it is more melodic, there is more and better guitar harmonies, the vocals of Nils Johansson (also in Astral Doors among other bands), are of course yet again outstanding - everything is absolutely top notch. It sounds more confident and has more pondus over it and main man behind the band, Erik Ravn, is really excelling and is putting on a showcase here and shows his genius to the world. I can not find one single second on this album that I in any way can critizise, as it is all there for a purpose and every single note makes a vital contribution to the whole picture.

It is also more progressive this time. It happens stuff almost constantly and there are a thousand twists and turns in the songs, and I usually despise that kind of stuff but here it all just fits perfectly. During the first listenings of the album, I could not help thinking of Gamma Ray in some of the most pompous and progressive parts, so I was not surprised to read that Erik Ravn lists Heading For Tomorrow by Gamma Ray as one of his 5 favorite albums. It is only fragmentally and only during a few occasions, however, so there stops the similarity in case you think that this is yet another power metal band.
The transitions between fast and slow, heavy and light, straight and progressive parts just blend together seamlessly and beautifully. The best from two worlds work in a perfect symbios here: the classic and fast heavy metal with amazing guitar solos and leads, and the folk inspired elements. This time the metal parts dominate a bit more than last time and here the folk elements are portioned out in more concentrated but intense parts and serve even more as brilliant spice for the music when they set in.
I will not try to describe each song in detail since I don't think I can do them justice in a few words in here, and they are so complex that I would not know where to start. I would however like to describe listening to this album as looking at a very dramatic and flamboyant 18- or 19th century play with many turns of events and shifts in moods. Just to get you an idea.
We have arrived to the end of my short conclusion of what this album is about and it is time for the chalices to be handed out. I was planning on, in true Spinal Tap spirit, handing out (for the first and most likely last time in Metal Covenant's history) 11 chalices of 10. That is truly how good this album is but I fear that I would put myself in an impossible position since I feel that this band has potential to grow even more and what happens if the next album is even better than this? 12 out of 10? 13....? No, that would be to twist everything in absurdum so I think I will settle for "just" 10 out of 10 this time too.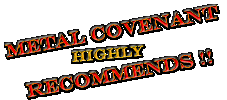 See also review of: Salt , Far From The Madding Crowd

Production

Vocals

Compositions

Summary





10 chalices of 10 - Tommy

After reading our chief editor's review I got an immediate urge to clarify things a bit. Even if it was a brilliant review that I agree with and can stand behind in almost every aspect I still feel that the album deserves even more praise. The Shadow Cabinet is simply put a piece of art. Every single composition and every single note inhabits an extraordinary perfection and beauty that is beyond my imagination of what I thought was possible. From here there can't be any progression, this is how good it gets. If the next album will be anywhere close it still can be categorised as a masterpiece, but an album on par with The Shadow Cabinet? No way! I'm in awe over the mastermind Eric Ravn, what he has produced with this album is almost unhuman. I'm having what he's having, ker-ching!
//Hawk (11 of 10)

| | |
| --- | --- |
| Related links: | |