| | |
| --- | --- |
| Wuthering Heights - Salt | Published May 14 2010 |

*=Staff's pick

Away!
The Desperate Poet
The Mad Sailor*
The Last Tribe (Mother Earth)*
Tears
Weather The Storm*
The Field
Water Of Life
Lost At Sea*
Genre
Progressive Heavy Metal

Nils Patrik Johansson

Vocals

Tracks
9

Erik Ravn

Guitar

Runningtime
43 Min.

Martin Arendal

Guitar

Label
Scarlet Records

Teddy Möller

Bass

Release
14 April 2010

Morten Gade Sørensen

Drums

Country
Denmark

Andreas Lindahl

Keyboard

Similar artists
---

Many with me have perhaps wondered how on earth Wuthering Heights can top, or even come close to their latest two releases who both were absolutely magnificent. Fear not, my friends, they have amazingly enough done it again. I honestly did not think they would, or rather could.
While maintaining their characteristic sound and musical core, they have taken it to yet another another level. Not perhaps a better one, but a different one, which makes it very fresh and interesting to listen to. The mastermind behind it all, Erik Ravn, is nothing but a true genius in my book.
As I have mentioned in an earlier review of the band, the best way to describe the music of Wuthering Heights is that a bombastic and flamboyant movie or a classic, medieval stage play is playing up in your head. There are twists and turns in mood and scenery that carries everything along and there is not one dead second during the course of the entire album. Again, if you know my preferences from other reviews, I am not a fan of changing tempo, mood and melodies every 20 seconds, but Wuthering Heights just do it so extremely well.
One amazing melody after the other are taking turn carrying the songs forward, and there are suprisingly few moments of recycling even though I can hear a riff here and there that sounds familiar but we're only talking about a few fragments. And if you thought there have been a lot of great guitar solos and leads before, you are in for a real treat this time.
The pace is pretty high throughout the album and while the melodies on earlier albums have had sort of an undefined folkish shape, they are this time having a distinct irish touch to them. That is really the only musical difference from before. That is most likely because there is a maritime theme this time in the lyrics and that is captured well in the music as well. More than once do you get the picture of adventures on the salty seas while listening to the album. Hence the title of the album, I presume.
Nils Patrik Johansson is a monster vocalist and he continues to excel on this album. The man gives such a dimension to the music of Wuthering Heights and I am completely ravished by him. Enough said. If you have never checked this band out before, it is sure about time now. I dare saying that you cannot find a better band in the genre today.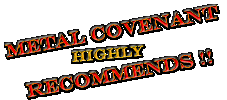 See also review of: The Shadow Cabinet , Far From The Madding Crowd

Performance

Originality

Production

Vocals

Songwriting

Summary





9 chalices of 10 - Tommy