Interview conducted November 2 2018
Interview published February 1 2018

In November, The Crown made a long-awaited appearance at Nordfest, a festival in Sundsvall, Sweden. Prior to the Swedish death metal masters' awesome, crushing gig, Metal Covenant sat down with guitarist Marko Tervonen, one of the founding members.
A very nice and interesting time was had, talking about things past and present regarding The Crown, who also demonstrated their top form with their latest class album, Cobra Speed Venom.

Mozzy: So, how was your journey to Sundsvall?
Marko: Well, it was like a day at work, an eight hour drive. But that is how it is.
Mozzy: You have not played up here in Northern Sweden before, have you?
Marko: No, let's see… Östersund is the most Northern city we have been to. But that is a long time ago.
Mozzy: Oh, I don't remember that.
Marko: It was twelve hours driving that time, and I remember it was icy as hell, as it was in December or something like that.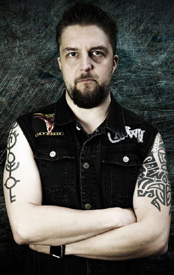 Mozzy: You have never really done a proper Swedish tour either, right? It has just been Gothenburg and some other one-off gigs. It was the same in your early days.
Marko: You are right. It has mostly been one-off gigs. Sometimes we have done a tour in Scandinavia. We did a tour with Cannibal Corpse once which was Oslo, Stockholm, Gothenburg. We're actually looking to do Malmö and Gothenburg back to back early next year. It will be together with a very cool band but you have to wait for that announcement (laughs).
Mozzy: I remember seeing you at Sweden Rock Festival in 2012, and you had a very large audience then.
Marko: Yes it was. Sweden Rock is special as it is such a big festival, so you're playing for the people that are there, so to speak. I don't know how many in that audience who were there just to see us, though. But it is an awesome festival.
Mozzy: Indeed. I was thinking about the setlist, both tonight and other times. It must be really hard to choose between songs, especially tonight where you are not playing that long? Tonight's playing time (45 minutes) is way to short, to be honest.
Marko: That is right. You just have to adapt to that situation. We played in Russia last weekend and then we played for close to 70 minutes. And tonight it is 45 minutes. It is a battle every time, choosing which songs to remove. It is very hard!
Mozzy: It is a sign that you have lots of good songs, however.
Marko: Yes! Even if we would pick just one song from each album, we would have to remove a song (for tonight's set). It is a bummer, but you just have to do it.
Mozzy: How have the songs from the latest album (Cobra Speed Venom) been received by the audience
Marko: I think it has worked very well!
Mozzy: The album was well-received too, rightly so.
Marko: Yes it has. Thanks. It started like… I think there were some people who had written us off. The last record was not crap (laughs) but it could have been so, so much better for different reasons. It was what it was, what can you do. But I am glad that we this time had the opportunity to do the best record we could. And also that it has worked out great live. This album is more intense.
Mozzy: There is a difference in that area.
Marko: Yes. The last one sounded a bit tired, in my opinion. I put much of the blame on myself. For various reasons, I ended up drumming on that one (smiles), and it was only just that I pulled it off. And then this time there was such a difference when a young guy like Henke (Henrik Axelsson) stepped in and simply blasted his way though the material. Now it has a whole different energy. And we can use his ability in a whole different way compared to mine.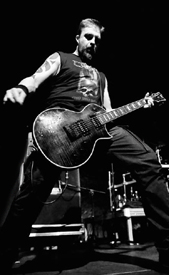 Mozzy: The new album is a bit sharper indeed, song-wise as well I think. I also read that you think that this album has more of the feel of being created by a band.
Marko: Exactly. That was an important piece of the puzzle. Actually, all our records up until when we quit (in 2004) were made as a band. We rehearsed, went into the studio, and made it all in the right way. Then when we made our comeback, it was like, 'well I can produce it'. It felt easy that way. And then what happened, like with the previous record, was that I sat at home by myself laying the guitars and so on. Not at all working as a band, you know.

So with Cobra Speed Venom we made a conscious decision that we will work in a real studio and I will not produce, just play guitar and whine (smiles). Also, we were going to rehearse, which we did not do last time when it was made the modern way with sending files. That works well for other bands, but we have to really practise the material and play it.

In that way, we get to shape it. And then we enter the studio, all of us. It should not be a one-man project. I produced both Doomsday King and Death Is Not Dead, and you find yourself alone in the studio asking "is this good?" (laughs), you know. You don't have the band mentality.

Mozzy: Plus, you returned to Studio Fredman for this one.
Marko: That is right. It was a safe bet. He (Fredrik Nordström) has produced great records for us and for many others, of course. Plus, it is just a 50-minute drive from my hometown. There were some suggestions like going to England to a producer, but we cannot go there for five weeks and leave our daily lives here. That is just how it is.
Mozzy: The financial bit plays a part as well I suppose.
Marko: For sure. The circumstances were right in order to use Studio Fredman this time. For example, when you have the band in the studio and you get some spontaneous idea late at night after having a beer, you can grab it right away. Those things can become fantastic, and you loose those when you send mp3 files back and forth.
Mozzy: Apart from having more intense parts on the Cobra Speed Venom, you also have that great groove, and the punk feel, you have always had. Also, things like the awesome parts on In The Name Of Death which is more traditional hard rock, even. Things like those are very cool.
Marko: Yeah! That is something we have brought back. There are not really any of those elements on the last album. Magnus (Olsfelt, bass) is great at writing rock tunes, and then we add things to his work. Like with In The Name Of Death, if you remove the drums, it is a rock tune! When we others add our things it becomes something else, like death metal rock, sort of.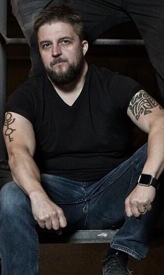 Mozzy: You really have a great mix of different things in your music. These elements really spice it up.
Marko: Exactly. We have dared to bring in some rock and some punk and other stuff. As long as it sounds good. Also, we have realized that super-fast drums do not always make it more brutal. If you include some D-beat, that can be even more intense and make it more energetic.
Mozzy: Something which also has to be emphasized that The Crown have a lot of class songs, with great choruses as well. Great songs, simply put. Even though you have fans of all over the world, it feels like you could have been more popular than you are. In comparison to a band like Entombed, for example, in my opinion you have songs that are just as good or better.
Marko: Yeah, thank you! Well, I am still very pleased with the new album and during our long drive here we discussed that it is time to do a new album and we have a challenge ahead of us to step it up. Because we put so much time into creating this last one. We don't want to rush it or be sloppy just to get another one out. It has to go through this process which we know makes for a better end result. So I'm very pleased and it will very interesting to see these end-of-year polls with best albums and so on!
Mozzy: It should appear in a few of those. But have you thought about that aspect of popularity through the years, that you should have made it a bit bigger? As a fan, one can feel that way.
Marko: Well that aspect is interesting for sure. My experience has always been that those who are fans or our band, they are huge fans, you know (laughs)! I often see or hear people from the whole planet saying "you are so underrated!" or "the most underrated band in Sweden". "How come you are not a bigger band?" and so on. Then you start to wonder 'well, what is the reason?'

I am sure there are so many factors. Maybe we should have played more live, or whatever. Maybe the timing with a lot of things has played a part too. When death metal exploded in Sweden, we appeared right afterwards, so we were not among the leaders, so to speak. Those can be a couple of reasons. But speaking from a quality point of view, we feel that we have nothing to be ashamed of.
Mozzy: Certainly not.
Marko: I am really happy with everything we have done, and we have always tried to do our best. But then, should we be bigger? I don't know, it is difficult to answer
Mozzy: Yes, and you still have lots of fans.
Marko: Exactly! And with the latest album, that has been obvious, not least abroad, that there is more interest. I think the audience is noticing that there is more energy, both on the album and in us as performers.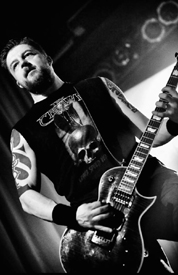 Mozzy: Also, you were inactive for some years which surely made a difference.
Marko: Yes, of course. And when we made our comeback with Doomsday King (in 2010), we had a different singer and that record was originally intended for another project. It was thrashier and so on.
Mozzy: It's a really good album though.
Marko: Yes! I think it is underrated myself (laughs) I like it, it is aggressive. But if we had made our comeback with an album like Cobra Speed Venom, maybe it would have been different. I don't know. You can speculate about these things in absurdum.
Mozzy: Did you miss The Crown during those years when you were away? Did you think that you would make a comeback some day?
Marko: Well, that is what happened in the end. When we quit it was because we had had enough. We had been doing it since we were 14 and just kept going. When it was time to quit, it was time. But it was funny, during those years away from the band… it is not like you can just stop playing and creating music. So I made two records with Angel Blake, which is way different. And Magnus wrote a record for a rock band, Stolen Policecar. It was in the vein of The Hellacopters, energetic rock stuff, which he is great at.

But then, as time passed.. I remember Magnus contacted me and told me "I have 12 new songs. It is death metal, what should we do with them?" (laughs) That is how it started. I was like "I don't know". But our kids, which were produced during our break (smiles), had gotten older and it was like "now the kids are older so daddy can start playing around again" (smiles).

And then Magnus said that he has songs for a record. "Well, we cannot release it as The Crown". So we talked about releasing it under the name Dobermann. Doomsday King was intended for that, with Andreas Bergh from The Deathstars as singer. It was going to be a whole different thing (laughs). Then we thought "maybe we can ask Janne (Saarenpää, original drummer) if he wants to do drums? And ask Marcus (Sunesson, former guitarist) if he wants to do solos?"

All of a sudden, all of us were there. Except for Johan (Lindstrand, vocals), he did not want to join at that time, so we brought in Jonas (Stålhammar). Then it was getting silly, so we thought we might as well release it as The Crown. It all sort of crept upon us (laughs).
Mozzy: I see. Actually, I was at Summer Breeze festival in 2006 and then I saw both Angel Blake and One Man Army And The Undead Quartet (with Johan Lindstrand). That was quite special.
Marko: Oh! That was a long time ago.
Mozzy: Now we have mentioned various members, line-up changes has been a big part during your career as well.
Marko: That is right. And changing the singer is quite a radical thing, it is something you should avoid. But what can you do? When Johan quit the first time, we did not know what to do. But then we thought, 'well if we don't have Johan, who is the best choice?" And that was Tompa (Lindberg). We asked him since he was not in a band at the time, and he joined. You always have a choice: either you sit there rotting with a bunch or songs, or you choose to do something about the situation. And we always had support from the label, who told us to keep going.
Mozzy: Yeah, you should just keep going. As a fan though, you often find it a bit sad when an original member leaves.
Marko: Sure!
Mozzy: But then you realize that it works out after all.
Marko: Yeah. You often divide the fans in two camps, for example when you release your second album, you always get different opinions. Some said that The Crown is better with Tompa, and so on. That's just the way it is.
Mozzy: As for other member changes, when Robin Sörqvist (guitar) joined, you already knew him right?
Marko: Yes. And he is even the cousin of my ex-wife, and he is a childhood friend. And then Henrik came in later as drummer. When Janne left it was natural, because he moved to the US. He knew that there was no way he could to both things. I had a studio a couple of years ago, and Henrik's band Imploded was there. I was impressed straight away by him.

Also, he helped out live with Angel Blake one time. So it was my suggestion to the rest of the band, if they wanted to meet Henrik Axelsson (smiles). He is younger than us, but he fits in perfectly. As we have done this for such a long time, it is not enough to have a skilful drummer; it has to work apart from the playing too. You cannot spend an eight-hour drive with an asshole, you know.
Mozzy: It is enjoyable to hear him on the new album for sure.
Marko: Oh yes. And also, there is really nothing edited on the album. You hear that it is Henrik who is playing, and you will hear it tonight as well. He really is that skilful, and fast. So he is perfect.
Mozzy: Now that you members are a bit older, what are your ambitions?
Marko: Well, first and foremost, we find ourselves really happy that we are able to do this. And the most important factor in why we can do it, is that we can do it on our terms. I know a band that started around the same time as us, and they have just kept going. They are in a pretty tough position. Because somewhere along the way you try to make the band into your career and something that brings your income, you know. And that is hard.

When we had our break, we took the opportunity to study and get real jobs. Shaping up your normal life, so to speak. So nowadays, we are lucky in that we can turn things down, because we know that it can affect things in your private life and in your job.
Mozzy: I was going to say that; you must be in a pretty perfect situation. You have your security back home but can also go out and play for your fans in different parts of the world.
Marko: Yes, exactly! Otherwise, it would not work. If we were forced to live on the music, we would have to play 200 gigs in a year. Then, I would not have been married, and my son would not recognise me. I would not put myself in that position. So the fact that we can make it work the way we can, is just awesome. Sometimes you forget that. Like I said, I know colleagues in other bands who are in a tough position. They have to say yes to every gig and that creates problems.
Mozzy: Now you are back on Metal Blade, and they also seem to support you very well.
Marko: Yes, It was great because when we started talking about doing this a real band, we thought about them. We did two albums with Century Media, which was a bit so and so, as regards to relations and effort, but whatever. So we thought that we should see if Metal Blade were interested. They still have people working there since we were with them in the old days.
Mozzy: I have met a couple of guys from Metal Blade, like Andy Turner and Michael Faley. They seem like cool guys.
Marko: Yes! And then we have Andreas Reissnauer who works in Europe. It was him and a guy named Michael Trengert who discovered us, really. Michael passed away a few years ago, sadly. We have a lot to thank them for. Andreas is a diamond of a guy. We entered Studio Fredman, recorded four songs and sent them to Metal Blade only. We asked them what they thought and they just said "let's go!" straight away. That was great to hear so we decided to go for it.
Mozzy: Also, it is fun that they are releasing various editions of the material, like on vinyl. Me and my friend Stefan just bought the new Zombified picture disc, for example.
Marko: Yeah! Aha, cool (laughs)! Yes, those things are fun. They really know their stuff, Metal Blade. And since we have had such a long relation with them, especially with Andreas, it works great. He is so calm and flexible. Also, we said to them that we cannot do these five week tours. But we can do shorter tours that don't affect things that much. And they were fine with that.

Those were the conditions we had. Before, when we were younger and were just musicians, we did five weeks in the US and so on, you know. That would not work today, it is just not possible.
Mozzy: I guess they also see that there is interest in the band anyway.
Marko: Yes! Then again, I can imagine they can be somewhat frustrated. The latest album, Cobra Speed Venom, is our first record to enter the official German chart. It was in the top 50, as the 34th most sold record in Germany (smiles). None of our previous records have been in the top 50. It is so great that this happens with your latest work.

So Andreas called me and said "you fucking cracked the top 50! You are in 34th. So, how many gigs have you booked in Germany?". I replied "none" (laughs). So we had nothing booked while we had that success. Now we are going there this December, though. I had no idea that the album would do so well.
Mozzy: That is really cool. So, what about the imminent future? It is the 20th anniversary for Hell Is Here next year, for example. Is that something you have thought about? I noticed you played that material in Japan recently.
Marko: Yeah! Well, with this band we are not very good at honouring those anniversary things.
Mozzy: I guess sometimes you just forget them too.
Marko: Exactly. It was actually our promoter in Japan who asked if we could do something special since Possessed 13 was turning 15 years and Hell is Here 20 years. "Oh, is that the case?" we responded (laughs). However, I know that there is a plan with Metal Blade to re-release the albums on vinyl and that sort of stuff. A couple of years ago we had some other anniversary plans but nothing came out of it.
Mozzy: Well, it is not a must either.
Marko: No, it's not. It can be really fun though. We have had some proposals, like playing an album in full live, which has gotten popular. But I don't know, it feels like on the verge to prostituting yourself (laughs). Sometimes it can be good and sometimes not. It depends.
So we have to take it step by step and see what we will focus on. It would be fun to do something.
Mozzy: And a new record is being planned, then? That is very interesting.
Marko: Yes. And the great thing is that we have a luxury problem in that we already have 13 new songs (smiles). Song-wise, it is not a problem, as we got such a kick out of the whole Cobra Speed Venom album. The songs just kept flowing. The challenge now is simply to get together and start working on the songs. We have not rehearsed any of them, but the foundations are in place. When we get to the stage when it is time to record, I don't know. But it should be next year, I think.
Mozzy: We will look forward to that.
Marko: Yes. We were really excited about the response for the last one, so that helps.
Mozzy: I will be awesome to see you tonight, it has been a long time. And I know many are looking forward to your gig especially.
Marko: Oh, cool!
Mozzy: You should have been given a longer playing time, though.
Marko: Yes, but we have to adapt to it. It has been worse, like when you go to a festival abroad and play 30 minutes. You barely have time to get warmed up. Like at the Maryland festival where a huge number of bands are playing, 24-7, and there are changeovers every 20 minutes. It is insane.
Mozzy: Thank you very much for your time. You have to go and get something to eat as well before the gig.
Marko: Thank you! Yes, some food is necessary.

Related links:

www.thecrownofficial.com
www.facebook.com/thecrownofficial
www.facebook.com/marko.tervonen.1976