Interview conducted April 25 2011
Interview published May 04 2011
The Rods have been around in one form or another for over 30 years. The cousin of Dio - David "Rock" Feinstein - has recently released his new album - 'Bitten By The Beast' which featured Dio singing on the song "Metal Will Never Die". The Rods have finally unleashed their first album in over 25 years, with the original power level trio intact. As a befitting tribute to Ronnie James, they are honoured to have Dio sing on the song "The Code".
I spoke with the hard rockin' drum warrior - Carl Canedy - all about the band's influence on so many successful acts, his work with producing some of the best thrash releases ever, and his brief stint in the early daze of Manowar.
'Vengeance' is the name of the new CD, and it is awesome. Anvil, Raven, and Y&T fans take note, and let them eat Metal! The Rods are back in the raw, and living outside of the law. These wild dogs are still runnin' wild, and ridin' free, full throttle out on rebel's highway.

MettleAngel: Hey Brother, I have been jamming to the new album - 'Vengeance', and I am very impressed. This is a solid Metal album, sure to please fans of your past efforts from the early '80s.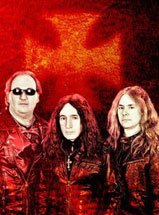 MettleAngel: As well you should be! Did you do any lead vocal work on 'Vengeance'?
MettleAngel: In the past you sang vocals. You were one of the first Metal drummer vocalists whom I can recall, next to Dan Beehler of Exciter, and later King Fowley of Deceased.
MettleAngel: I agree, and I love his singing on his solo album 'Bitten By The Beast', although, he sure does have a Bluesy flavour, and some of the songs sound influenced by ZZ Top, like "Gambler, Gambler", and "Rock's Boogie".
MettleAngel: I can tell. Every time I hear the song 'Vengeance', I am reminded of AC/DC's "Dirty Deeds Done Dirt Cheap". "Runnin' Wild" reminds me of Y&T's "Open Fire". My favourite song is "Rebel's Highway".
MettleAngel: Certain songs also remind me of Anvil. I know all of these bands are your contemporaries. With the exception to AC/DC, I know they are not necessarily your influences. In fact, you probably are inspired by the same bands as they are.
MettleAngel: I always loved your cover of The Supremes' song "You Keep Me Hanging On".
Carl: Funny that you should mention Anvil. Robb was just playing me their new CD, and it is incredible. Anvil fans will be so pleased once they hear this. Every song just grows on you, and it keeps building up.
MettleAngel: I am so excited to hear new Anvil. The wait is almost over! I have followed The Rods ever since I first heard 'Let Them Eat Metal'. I have never heard your debut called 'Rock Hard', and I have never seen 'Heavier Than Thou' on CD.
MettleAngel: I know that my friend has 'Heavier Than Thou' on vinyl. I have a few of those High Vaultage Re-mastered versions, but I think that those too are now out of print. Those were band approved, right?
MettleAngel: The packaging on those was excellent, with great photos, liner notes, and bonus material.
Carl: The problem back then with those hard to find albums not getting enough exposure was poor management decisions. We did not realize that we had as many fans as we did, and still do. Corrupt managers misled us, and deceived us.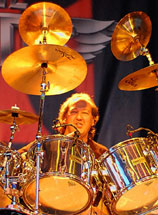 MettleAngel: I hear this all too often.
MettleAngel: I looked over some of the music which you have made available, and there are some great offers there.
Carl: We do it ourselves, and price the products fairly. We are working on a new DVD too, which we hope to release later this year. We want to give fans what they want, and make it affordable too.
MettleAngel: That is so cool. What sparked the reunion of the original power trio, after such a long hiatus?
Carl: There was no real reason. Dave was working on his 'Third Wish' solo album with hired musicians. He and I just got together and began to write some songs. It was a slow process. We knew that we would only want to do it if we could create that balls-out energy and hunger that we once had. So much is different from the old days.
MettleAngel: Besides being in The Rods you are most well-known for your having produced some of the killer early thrash masterpieces like early Anthrax, Overkill, Exciter, Possessed, etc. In Mustaine's biography he mentions you working on 'Peace Sells'.
Carl: I need to set the record straight, because I did not produce that album, or even work with Dave in the studio.
MettleAngel: You did work with some of the early Megaforce bands, though.
Carl: Yeah, I helped TT Quick with their self-titled (EP). You can check out my Myspace, and get a complete list.
MettleAngel: This is a major accomplishment given the regained success of Accept with Mark Tornillo as their vocalist. I have heard that they are already writing a new album. I just wish I could find the song "Land Of The Free" to buy, in lieu of just hearing it at You Tube.
MettleAngel: As concerns Megaforce Records back in the day, have you ever heard the song called "Metal Rap" by an obscure band called Lone Rager?
MettleAngel: I guess it is just serendipitous, because I was listening to a band in iTunes, and this song was the next in line. Did you know that they mention The Rods?
Carl: Yeah, because, well, we are Lone Rager...
MettleAngel: Say what!
Carl: We were just having fun. Gary, Johnny Z, Andy 'Duck' MacDonald, myself, and some other guys in the scene wrote that song, and a few others. Johnny is the one who does the rapping. He is like P.T. Barnum - a real cut-up character. He would just spout off a bunch of bands at random.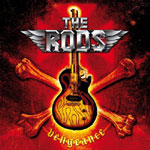 MettleAngel: Man, this is truly profound! I cannot believe that The Rods and Johhny Z are Lone Rager!
MettleAngel: This is such cool news! This was before the movie "Airheads" where they called themselves the ridiculous Lone Ragers. That song really mentions obscure acts like H-Bomb, X-Ray, Warning, Bodine.
MettleAngel: I love the lines, "What rhymes with Maiden?" "Super heavy molten laden!"...and Metallica?...?" Spectacular!"
Carl: You should hear this new band from Miami that I am currently in the studio with, called Blumpkin. They are a bit Progressive, but they are very interesting. In the middle of a song they may break it to this weird vibe. They are very dynamic.
MettleAngel: I also love your work with the 1985 Thrasher project. 'Burning At The Speed Of Light' was finally reissued through Metal Mind Records. That song "Widowmaker" with Billy Sheehan on bass is a true rager! I am glad that you are still working with young bands. I would love to see you live, are there any tour plans in the works?
MettleAngel: It would be cool to see you play Sweden Rock Festival. I told Janne Stark of Overdrive that I would be speaking with you.
MettleAngel: Like The Rods, Overdrive have made an awesome comeback. You should check out their new album 'Angelmaker'. So what would you say is your favourite Rods' album?
MettleAngel: That was an excellent follow-up to 'Wild Dogs'. I did not know he worked with Metallica. I only knew about his working with Virgin Steele on 'Age Of Consent'.
Carl: The 'In The Raw' album was truly live in the studio. I had to pull together my drum kit from what was actually present, there in the studio. We recorded for a straight 48 hours, on a shoestring budget. This is why the cover art is so gloomy. They took that photo when we were exhausted.
MettleAngel: I had always wondered why the band chose such a dreary photo image.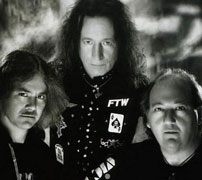 MettleAngel: This is the one which features the late Ronnie James Dio. How did you get him to sing on this when he was so ill?
Carl: Dio had agreed to work with us many years ago. He was excited about the new material which Dave, Gary, and I were recording.
MettleAngel: That song seems a bit religious and perhaps influenced by "The Da Vinci Code".
MettleAngel: We have lost so many great musical artists recently. I assume you knew Scott Columbus from Manowar. What was it like when you were once in Manowar?
Carl: That was early on, and I just recorded the '81 Demo with them. I knew that Manowar had potential, and would go on to be very successful.
MettleAngel: Did you ever wear the loin cloths or moccasins?
Carl: It is a scary thought of me ever wearing that stuff. No, I had to make a choice between Manowar and being in The Rods. I wished the band all the best, but I did not want to deal with the autocracy.
MettleAngel: Well, in the long run you made the right choice.
MettleAngel: Donnie Hamzik replaced you, and now he is back in the band, and helped with the re-recording of 'Battle Hymns'. To Manowar, you can honestly say, "Let Them Eat Metal!" I am so grateful that you stuck with The Rods. Congratulations on an awesome new album.
MettleAngel: The honour has been all mine. Tell Dave and Gary that there are still many fans of The Rods, and you should continue to rock and raise some hell!
Related links:

www.therods.com
www.myspace.com/therodsofficialsite