Interview conducted June 11 2022
Interview published August 3 2022

Mikael Stanne: "In Flames fans are of course happy to see that Daniel, Peter, Niclas and Jeppe are back."
The Halo Effect is putting out its debut album Days Of The Lost on August 12th through Nuclear Blast. Metal Covenant met up with vocalist Mikael Stanne and bass player Peter Iwers at Sweden Rock to talk about the band's initial steps, the soon to be released first CD, and, yes, of course, also about the unavoidable parallels to In Flames.
Band lineup:
Mikael Stanne - vocals
Peter Iwers - bass
Daniel Svensson - drums
Niclas "Nicke" Engelin - guitar
Jesper "Jeppe" Strömblad - guitar

Tobbe: It's been a while now since you guys announced this band last year, but I must admit that it caught me by surprise.
Mikael: You know, when we started talking about putting this band together, it was more like, "Why not? We have plenty of time. We're old buddies. Let's do it!". And then we realized that maybe we should keep it a secret, because it would be great to just suddenly break the news without anyone knowing about it. So that became a thing. Initially we were thinking about playing some demos to a couple of buddies, but then we decided to keep it a secret.

It was not so important to keep it a secret, but it was important to do this promotion push. That was exciting, because, I mean, how often do you get to do that? We had all the experience, all the backup, record company, songs, record done, so we could just wait, and then just push it out. So it was very special and different, and something that I've never experienced before.

(Peter:) And neither had I. It of course became news, although we didn't think about it in that way in the beginning. But we wanted to play together. And so we waited for two years. We were playing, and recorded the album, and let's go, but then, wait a minute, pandemic. So we wait for 24 months, and then we go. I can't believe it.
Tobbe: When you meet up with people you know, but maybe haven't seen for a while, it doesn't take long before you're back on track again. Did it work this way also musically to you guys?
Peter: We have played so much together in different constellations, even though Mikael and I haven't played together. But he has played with Jeppe… (Mikael:) Yes, but that was a long time ago. [Laughs] (Peter:) …and that's just how it was. It fitted like a glove, you know.

(Mikael:) And that was what was important. Partly I wanted to play with Niclas, because, well, we have never played together, and we love the same kind of music and so. So when he presented the idea, like, "Hey! Let's just start a band." and Peter told me, "I think Daniel and Jeppe are onboard as well.", I just couldn't turn it down. And I wanted to hear Daniel and Peter playing together, because they are so awesome. And I wanted to hear Jeppe play. So, it was really a no-brainer. I just can't miss this.

(Peter:) I clearly remember that I called you. I got to hear that Nicke had already talked to Jeppe. I was on my way home from Bryggeriet, where we had a meeting, like, "Shouldn't we just do this?". So I called Mikael and, "This seems awesome!". It was so great, and we have known each other for a 100 years, you know.

(Mikael:) So it becomes pretty easy, you know. But at the same time, it's of course a bit messy to put together a new band and everything. But at that point everything was calm and quiet. In the beginning we just did demos. It was in '19. But in the beginning of 2020, like, "Okay. You can't go anywhere and you can't travel.".

I had a lot of plans that just got scratched. So, all of a sudden, "Okay, we're recording an album." and all of a sudden we were in the studio for 8 months. It would never have happened otherwise. Simple as that.
Tobbe: The unpleasant question that I just have to ask. Jeppe's stint in most bands he's been part of is usually pretty short. So, my question is: Will Jeppe stay in this band?
Peter: That's our plan. Absolutely. That's why we do this, to play together as 5 cool friends, you know. So, absolutely. He will. We cover his back, to a 100 percent. (Mikael:) But we don't know for sure, of course. Sure, he has his problems, but we do everything so that he will be able to be with us. And today he crushed. He was awesome. It was fantastic. It was like a dream to me. I haven't played with him on a stage since '93, so it was about time we did this. It was absolutely wonderful.
Tobbe: And another unavoidable matter, since you're all ex-In Flames members. Many fans to that band, up to maybe 10 years ago, might see this as a punch in the face to Anders [Fridén] and Björn [Gelotte].
Peter: Well, they can think what they want. But we've done this because we like each other and to create music together. (Mikael:) Of course that was something that we considered, how it would be perceived. I talked to Anders and Björn about this and told them, "You do realize that this is not about that? This is something we do only because we're friends.". So this is something else.

(Peter:) It's easy to understand that people want to draw parallels between us, but there is no such thing in reality. (Mikael:) I want to believe that this can stand on its own two feet and people will dig this for what it is. In Flames fans are of course happy to see that Daniel, Peter, Niclas and Jeppe are back. And it's the same for me. But I think people are down with this, you know. And I love In Flames. I saw their show yesterday. It was so great. I was crying tears of joy. It was amazing.

But I get it. Everyone just kind of must compare stuff. And we must create lists and stuff like that, and, like, "No, the third album is better than the second!". We just do that. But you can keep it on a healthy level. And that's what I've experienced since we started this. I was a little anxious about that, but I have experienced now that people are really cool. (Peter:) To a 100 percent. I have nothing to add.
Tobbe: In Flames played songs from pretty much their whole career, and especially when taking into account that they played 5 in a row there with a song from each of the 5 first records.
Peter: In Flames is a really great band. You are most welcome to write that. But we are also a really great band. But we are 2 different bands.
Tobbe: Bands like this one, where members come from, kind of like, here and there, and from other bands, tend to fold after 1 or 2 records. Tell me why this won't happen with The Halo Effect.
Mikael: Well, that's difficult to answer, because we don't know. But our plan is to continue, because it's great and we already have a lot of material to the next album. But sure, I will tour a lot with Dark Tranquillity too. We just have to find a good balance between it.

(Peter:) We're gonna go on tour, but of course Mikael's main focus is decisive. So we will go out playing, but when we come to a specific city, we might just come that time. And then the next time after the next record. Depending on what the situation looks like. We won't tour ourselves to death. We will go out playing, and people shall notice our presence. That's the idea.
Tobbe: You told me that you started working on the record a long time ago. But this buildup, where the first single was out in November, and then 9 damn months later the album will be out. That is a long, long time.
Mikael: Yes, and we apologize for that. I think that sucks. I don't like that at all. I'm the kind of fan who wants to hear one song and then buy the album. But the situation with vinyl is what it is. I guess that you know this, but it's difficult now to press vinyl because it's so damn packed.

And I and Niclas are super collectors, and nerds, and so they asked us, "Can we release the album earlier, but no vinyl?" and we were like, "Nooo, we can't.". Maybe that seems ridiculous. And Nuclear Blast wants to make a big thing out of it, and now the album is released more than a year after it was done. That's really tough, actually. And yes, it sucks to just release a single every other month and everything. But it is like it is, you know.
Tobbe: As we speak, 4 singles are out. Would you say that the other songs on the album follow these 4 tracks, or will there be any surprises as people get to hear the entire album?
Peter: No, I would say that it's well-balanced. We pretty much followed the recommendation from Jens [Prüter], who is the record company guy, like, "I would want to see these ones.". (Mikael:) Sure, these 4 songs are very immediate and to the point and so, while some of the songs from the album have a little bit different sound and some other cool stuff is happening. So there is much more to dig out, you know. So these 4 songs aren't just the best, but the entire album, I think, is cohesive.
Tobbe: And you have a guest performer, Matt Heafy. How come he got to be on the album?
Mikael: Well, we have known Matt for a long time. Through touring and so, you know. He's super cool and awesome. We were thinking about having a guest or not, but that song [Last Of Our Kind] Jesper wrote, and it's very old school Gothenburg. So we were talking about, "Are we gonna do this to 100 percent and have an intro and stuff?". We wanted Jesper Jarold actually, who made the intros to At The Gates' first and second record, just to get the connection to, you know, the Gothenburg stuff. But that wasn't possible.

So we were thinking, like, "What about having Tompa [Lindberg] at guest vocals?", which would have been cool. I remember, maybe in '93, '94… No, probably in '95 or '96, we were rehearsing. Dark Tranquillity, Dissection, In Flames and At The Gates were rehearsing at the same place at Masthuggstorget. Well, every band was there.

So, Matt texted me, or sent me a mail, or whatever you did back then, like, [whispers] "Can you record one of those bands from outside the door? I really want to hear this.". Okay, I exaggerate a little bit, because this is not entirely true. [Matt is in fact born in 1986 and would have been just a kid when this supposedly took place, so we can definitely rule out his presence in this story.]

But he's a real fan, and therefore I came to think about him, like, "It would be great if he could make an appearance on a song, that is so attached to what we did in, like, '93.". A super fan and an awesome guy. So that's why this happened.
Tobbe: I can also hear one or two melodies or harmonies that are similar to what Amon Amarth does.
Peter: Well, it's nice that they are inspired by us. No, I'm only kidding. But the thing is, no one was thinking about how it would sound. Nicke pulled ideas out of us all, and we just went for it, and the result became what it is because of the way we play. Kind of like that.
Tobbe: Were there stuff that you had to scratch because it was too similar to something else or something that you had done before?
Peter: No, actually not. We wrote almost 20 songs, and, well, 10 of them got on the album now. It's not like the other songs were left out because they were less good, but we chose the ones that we felt for the most at the moment.

(Mikael:) So very little got thrown away. Everything felt fine, because there is nothing before, nothing after, and we can just focus on what it is, you know. So when we talked about the music, like, "Let's keep it like 1 record, and don't look at what we've done before.", like you always do, and like I'm used to doing.
Tobbe: Now you've made me eager to hear those other songs as well.
Peter: Well, there are 20, 23, 24 songs.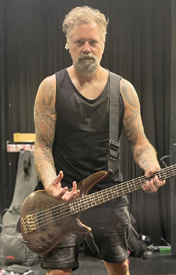 Tobbe: The number of songs is increasing.
Peter: Well, I guess that we have, like, 7 or 8 songs that are done.
Tobbe: On this first record you have of course combined your own different experiences, and you've been buddies and everything, but what will happen on a second or a third record as you all of a sudden start to get some different ideas instead?
Mikael: Many fistfights, and violence. No. (Peter:) [Laughs] Yes, I agree with Mikael. (Mikael:) No. But of course, it's much easier. The first album is always the easiest one. The second record is more difficult. But we are well on our way. We have many songs already.

(Peter:) But the thing is, what was cool about this record is that everybody tweaked around with stuff a little bit here and a little bit there. Nicke has written a big part of the songs, but if Daniel or Mikael wanted to do something, it was no big deal.

And this is the way we will think about it in the future as well. We'll take it as it comes. It will be awesome. There are no egos, and there aren't any, "No, this is my song!", but the best is what counts.
Tobbe: What do you think or feel when people say that this sounds like in Flames with Stanne on vocals?
Mikael: Well, that's nothing strange, you know. It's just natural. I know exactly how I personally am as a fan, with new lineups or whatever. But it doesn't sound like In Flames, and it doesn't sound like In Flames with me. It sounds like something else. But of course, if you don't keep track of everything to a 100 percent, well, you know, then maybe it does, and that's fine, because it is us and it is I. So it's not strange at all. You know, I can't get angry or so.

(Peter:) Yes, we can't be angry. We have played in a band before, and Mikael has played with Dark Tranquillity, and now we're doing this because it's fun. If people want to think a specific way, then that's okay.


See also: an interview with Niclas Engelin a few months later
Related links:

www.thehaloeffect.band
www.facebook.com/thehaloeffectse
www.instagram.com/thehaloeffectse
twitter.com/thehaloeffectse

www.swedenrock.com
www.facebook.com/swedenrockfestival