Interview conducted March 07 2016
Interview published March 25 2016
"I feel more comfortable here than I do at home."
Metal Covenant met up with Max Cavalera of Soulfly in the band's tour bus before their show in Stockholm. Last time we talked, in August of 2015, we talked a whole lot about the new record Archangel and therefore I now set focus on touring activities and his sons' contribution to heavy music instead. Max's sons, Zyon and Igor, play with Lody Kong and Richie [Max's stepson] is the lead singer of Incite, making this whole European tour seem like almost a family gathering, even if Lody Kong in fact didn't take part of the final few dates of the tour.

Tobbe: There's only a few dates left on this European tour and has everything been quite the same as usual for Soulfly coming over here?
Max: It's been the same, but at the same time a little bit different. It was a very exciting tour. I think it was a really cool package, having the kids, in Lody Kong, and Incite, and King Parrot was a very different opening band too, you know wild grindcore. So it was really fun. Good guys and we had a lot of great shows, like Prague, Poland and Belgium. For me this tour has been one of my most successful and exciting tours I've done in a long time, so it's very satisfying to be able to do that. You know, come over here and having so much people coming down for the shows.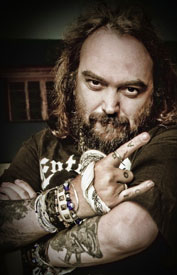 Tobbe: You're heading to Latin America soon after this current tour. You've been around for a long time now and how much more dedicated, in a live environment, are actually the fans in South America, comparing to North America and Europe?
Max: Well, similar. You know, metal fans are quite similar everywhere. Just sometimes in Central and South America they get really, really excited and really passionate. I think Nicaragua is gonna be like that. It's gonna be an insane show. And I think Dominican Republic too, because we've never been there. Anytime I go to a place that I've never been to, and I've been doing this for 30 years, it's always exciting. But overall it's pretty much the same feeling. Metal is metal and the fans are very similar all over the world, you know.
Tobbe: And almost instantly after the Latin and South American tour you're going to a 4 week tour in the US, so is extensive touring an absolute necessity to keep a metal band floating today?
Max: Oh, for real, yeah. I mean, you can't survive from record sales, 'cause you don't sell that much, you know. So it's very important. Plus we like it. You know, we love the touring and we love bringing the music to the people.
Tobbe: Even if you've been residing in the United States for a long time now, is it very important for you to always come back to South America, and especially Brazil where you were born and raised?
Max: Yeah. You know, the fans really appreciate it. I'm some kind of a figure there. You know, from being the first South American [metal] artist. I think they really like that and they really respect that. I think there's a lot of really, really nice connection with the fans there. And we try to play different places on this run. In Brazil we're playing some different cities, like Ribeirão Preto. Like I said, these places where you've never been before is always really cool and really exciting.
Tobbe: So what made you go to the Dominican Republic for the first time?
Max: We were pretty much talking to the promoter and saying "Where can we go, that we've never been before?" and he looked at the map and "Okay. Dominican Republic.". So maybe in the future we can go to Haiti, Cuba and Jamaica? What the hell, you know. Why not? And the Middle East I think is like the next frontier for metal. And hopefully we can go to India. I know a lot of bands are starting to go there, you know.
Tobbe: Do you have any festivals planned for the summer-time?
Max: I hope so. We're doing this Roots thing with Igor, you know, Cavalera Conspiracy. Return to the Roots, you know. Playing the whole record and there's a lot of excitement around that. Hopefully they're gonna book some stuff for Europe, so maybe some festivals. I'd love to come back, either with Soulfly or Cavalera, and do some festivals, 'cause I love the festivals. The festival season is amazing. It's always great. Even the smaller festivals. I think they're even cooler than the big ones.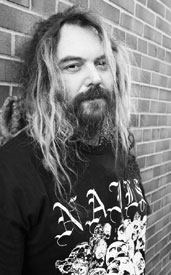 Tobbe: You've been here in Europe since late January and does it become harder to stay away from home as you're getting older?
Max: Not for me. I love it, you know. I feel more comfortable here than I do at home. I love the tour bus and different cities every night. Different food, different people. I'm a road warrior. You know, I was born for this. I still enjoy it. It's fun and you get to see a lot of cool stuff from the cities. You know, you walk around a little bit and that's really special. And then what we're here for, the show itself. We've had so many great shows on this tour that it's been unbelievable and for me it's just amazing to be here.
Tobbe: Let's talk a little bit about your sons' bands or actually your personal view of them. So do you think that your sons have chosen wisely by devoting much of their time to a band that plays heavy music?
Max: It's hard, you know. A lot of competition, but I think they've got good things going for them. They have a good label. Mascot Records is gonna put out their album. And hopefully they're gonna get some other tours that they can do on their own and not with Soulfly. And Richie just got the Devildriver tour in the US, so I think that's gonna be good for them. Yeah, it's a tough life, a rough life, but they chose that and they've seen me do it and enjoying it. So I think they are looking at me and "If he likes it so much, I think we have a chance to like it as well.".
Tobbe: You have personally had plenty of success already, but in this day and age music is consumed in a totally different way from what it was back then when you first started out, so do your sons actually know more about adapting to today's musical climate than what you do?
Max: You know, they got computers and all that stuff. I don't really do that stuff. I go as much as just Spotify. But the albums I really like I end up buying them myself, 'cause I wanna have the physical copy, you know. I'm just old school like that. But you can't really fight technology and you have to go along with it, you know.
Tobbe: So in what way do you try to adapt to technology?
Max: I'm having some ideas for kind of the near future. I'm talking to a headphone company and maybe they can make Soulfly headphones and then we can put that out together with the next record. That's something that the fans may like. A whole package. You know, there's stuff like that that you can do. It's original and helps you sell more records. But the reality is that you don't sell as much as you used to and that's why we need to be more on tour than before, you know.
Tobbe: For your sons it's gonna be really hard to reach your level and what you've accomplished through the years. Do you believe that they maybe will be a little bit disappointed if they can not reach their old man's level?
Max: I don't think that they really are looking at it like that. They look at what I did, like "What he did was almost impossible.". I think as long as they have fun with it it's great. I told them, and that's really what it comes down to, like "Enjoy what you do. Love what you do. It's better than if you have a job that you hate. So just look at it like "You can be on tour and on a stage or be working in some fucking office and hating life and really working for someone that you don't believe in.". At least music you believe in and you're doing something that you like. You don't really need to do all the stuff I did, so just have fun with it.". So that's kind of the advice I give to them, you know.
Tobbe: Was there ever a question whether they would play heavy music, just like you do, or like completely distance themselves from what you were doing and perform something completely different?
Max: I think what they do is different, you know.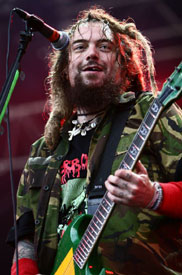 Tobbe: Yeah, it's different, but it's still heavy.
Max: Yeah, it's still heavy, but it comes from different influences. They have listened to different things than what I do and it's a whole different mentality. But they are enjoying it. It looks like they're having fun, so it's good that they do something that they like. For me, I see their bands quite different from ,especially, Soulfly. It's still heavy, but very different still, you know.
Tobbe: Is it kind of an odd feeling to have your sons out on the road, together with you, and everything that comes with it?
Max: It's normal. I mean, they grew up like that. They were coming on tours before they had their own bands. When they were born, they were born on tour and they've been on tour forever, so for me it's no difference. The only difference is that they play and are part of the show now. Apart from that it's not very different, 'cause they've always been around, you know.
Tobbe: They're still pretty young and, like any parent, are you sometimes worried what they might be up to when you're not watching?
Max: Yeah, as always, as a parent, you have to worry, but I think we really gave them good structures and good examples and I think they follow that quite well. I mean, I look at them and what they do and when I was their age I was way worse, but I don't tell them that of course. They do a lot better and they have their feet on the ground, which is good, especially with drugs and drinking, you know. They don't do much, of any of them. So hopefully it will stay like that and it will be more about the music than the drugs or the drinking.
Tobbe: Let's change subject here. If you look back at Archangel now, is there anything that you might have done differently if you were doing it today?
Max: Not really. I really like the way the album came out. I think, for me, it's a very interesting album, especially on the biblical stuff and I think it's got some really good songs, like Archangel, Sodomites, Bethlehem's Blood, Ishtar Rising and We Sold Our Souls To Metal. They are really powerful songs and I think they are gonna be part of our setlist for a long time. So I think it was the right album to make and I'm very happy with it.

I love the fact that the fans really liked it, you know. I don't know if the media like it very much. I'm not sure, but it doesn't seem like it. It didn't appear in many lists of "Best albums" and stuff like that. But I never really cared about that anyway. I don't make records for that reason, you know. I think the album itself is quite cool and if I was to do it again today, I probably would have done the same record.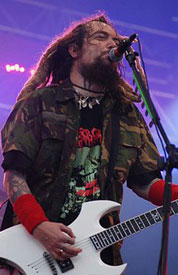 Tobbe: Last time you told me that you were gonna start with a new Killer Be Killed album during 2016 and that you already had some ideas back then, so how deep into that process have you been able to go so far?
Max: Right now, just riffs. I'm just collecting riffs now. I think it's gonna be a really great album. It has the potential to be a really big album. I think Nuclear Blast also is gonna be really behind it, so I think we can build something quite big with that and make a really cool record. We're gonna work on it this year and that means that it will come out next year.
Tobbe: You also told me that these last couple of years have been quite intense for you and that you eventually might slow down a little bit in the future, but honestly, don't you like to have your hands full most of the time?
Max: Yeah, but I think it doesn't need to be so much. That's why I think we're gonna tour most of this year, which I think is really good. We haven't really done that in a long time, like a whole year of touring for one record. We're already soon on our 3rd US tour, you know, and hopefully we can come back to Europe one more time with it. So yeah, I think that eventually we will slow down a little bit and I will have nothing out 'til next year for sure.
Tobbe: You started out when you were very young. You were merely 17 years of age when the first Sepultura album came out and do you remember what your goal was back then?
Max: I just loved the feeling that metal gave me, you know. It was a feeling of different things, like rebellion, anarchy, but also freedom, and anger. And you can direct your anger through the music to the songs. Even today, it's still the same, even though it's a bit more entertainment today, with the crowd, but still there's a lot of anger and a lot of energy and adrenaline and I think that's what moved me into metal. I really like the power that metal has.
Tobbe: With internet and stuff. When did you personally figure out that the musical climate would change forever? Did it take some time to realize that things were to become different than what they used to be?
Max: It was a little by little, you know. I just hope that people don't stop making records. I like the format of a record. It's sacred. I hope that doesn't die and that it never becomes out of style.

Related links:

www.soulfly.com
www.facebook.com/soulflyofficial