Drummer Snowy Shaw, the legendary man from Gothenburg has put his band Notre Dame to rest after seven years and three full-length albums, a band where he left the drums and instead acted as a frontman. We took the opportunity to get the facts about why Notre Dame is no more and also what else is going around with Snowy and the upcoming album from Dream Evil.

Thomas: Hi there, Snowy. Let me just start with saying that I really appreciate that you are taking the time to answer my questions and letting me and the readers of Metal Covenant know what's up with the life of Thomas Shaw and Notre Dame. Let's begin with the obvious question, why did you put Notre Dame to the rest? What was it that lead to that final decision and how come now was the time to end it?

Snowy: The actual coup de grace was probably how the promotional live clip for Munsters totally backfired right at me. I somehow managed to get the mighty Patric Ullaeus to make it from a couple of shows we did last year, hoping it would show booking agencies and promotors etc what a fantastic stageshow we delivered. But the response from the retards at our record company and distribution company still puzzles me to this day, comments such as " We didn't ask for this,..it's extra work for us" and "You´re a fuckking liar Snowy" just made me think what´s the fucking point of even trying to work with these fucking mongoloids! Here I hand them free high class promotional material that would normally have cost them a fortune and what do I get in return!? I've had enough of this shit---please just die! There were also some other things that had been going on for years besides the endless fights with our label, like the trouble of keeping the band from falling apart and the questionable priorities of some of the band members. Due to the turmoil I had gradually started to drift off into other musical areas and become increasingly fed up with the whole thing and needed a change.

Thomas: How did it all begin with Notre Dame? What was it that made you leave the drums and take on the role as frontman in Notre Dame? For those that are not familiar with the band can you give a quick recap?
Snowy: I never really gave up the drums entirely, but at the same time making music has always been the essential thing to me not nessecarily playing the drums.And fronting my own band is a very natural thing, I couldn't see anyone else doing it the way I would want it.It began when I lost interest of keep struggling with doomed project Illwill and for a little while there I was confused and wondered what i should do. Without any plan or anything I started writing new music exactly the way I wanted things at that particular time. Call it counter reaction or whatever but out came songs that sounded like horror film score and almost black metal. I had borrowed a cheap crap keyboard from a friend but yet an entire new world opened up to me.The first song i wrote was either A misconception of the french kiss or The Bells of Notre Dame. I liked the style and started to build from there. one day I ran into my old girlfriend Anna, who'd been in Paris for a couple of years and definitely needed a career change. I thought she would fit perfectly as the übersexy femme fatale Vampirella (a half porn/horror character that was a popular comicbook in Sweden around ´73-74 then it disappeared into thin air, little did i realize it was still going strong in America) She/Vampirella had gotten to know two freakish musicians in Paris and put me in contact with them, and the rest is history as they say..

Thomas: You end it all with releasing an album with a concert recorded almost six years ago, why did you chose that particular show? Wasn't there any later ones recorded so that more of your discography could have been represented on the album?

Snowy: Because it captured magic on tape. I asked myself from what period in my favorite band' s career would I want to hear a live recording from? The answer was simple, from their early prime time years when they were still young and hungry and hadn't yet been chewed up or buttfucked by the politics of the disillusioned music industry. I think we were at our very peak right around that time, mentally and musically, That´s why. with the exception of a few songs like Blacksmith and Stripper to name a few, I think our best material is represented on Creepshow freakshow Peepshow, and in far better versions than on the actual studio albums.

Thomas: You gave your last concert about a year ago at the Halloween Metal Fest in Gothenburg, and as I recall that were also filmed. How did that material turn out and are there any plans for a DVD release? Wouldn't you agree that a DVD would do Notre Dame more justice as you were a band to be seen as much as to be heard in order to get the full theatrical experience?
Snowy: Yeah I agree,but that just wasn´t doable at this point. We did in fact just like you say film that last show as well as recorded it on 24 channels, but it didn't feel like it was any of our better shows so I haven't even bothered to watch the filmed material. I just put that material along with the rest in my vault to collect dust until the day I feel like doing something with it,..if that day ever come.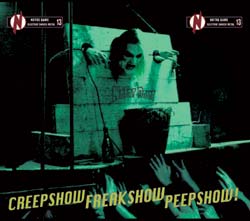 Thomas: When I listen to Notre Dame I sometimes can get the feeling of old black and white horror movies, where did you collect the inspiration for Notre Dame? Was it in theater, movies, music or simply, to me it kind of gave me the feeling of watching old black and white horror movies when I listened to it?

Snowy: I heard you stated in your review of Creepshow Freakshow Peepshow that we sounded like the Addams Family of Metal! ha ha I like that expression, it fits perfectly I think. And just like you, people have always had huge problems catagorizing Notre Dame, but I don´t blame ´em really. I was just combining all sorts of things that I liked pretty much, that´s how I am as a person I guess, complex not complicated. For Notre Dame i would draw inspiration from everything and nothing, for example the mood of a horrormovie I saw once as a kid or whatever. You´re right i 've always been fascinated by old black and white horror movies and I would draw a lot of inspiration from stuff in the 1920-30 for some strange reason. Like the silent movie Nosferatu for example. and then I have in retrospect understood I've had a penchant for themes in musical theatres, film scores and TV series and stuff, don't know why really but i guess the mood and vibe of the broken harmonies and the imaginitative cinematic feel appeals to me somehow. I never went all the way with it though, because I felt most people wouldn't understand it.
Thomas: When you look back on the career of Notre Dame, what are the strongest feelings? Do you feel that you achieved all that you could or could you have gone even further?
Snowy: I still had a helluva lot to give but too many things needed to be fixed in far too many places, so I saw no other solution than to end it all fair and square. In short I felt I needed a fresh start.
Thomas: Is the decision to end Notre Dame final, or if the times are right can there be a chance of comeback or do you feel that the subject on Notre Dame is emptied?

Snowy: I definitely have a lot more to give in the horror department but I gradually grew sick of it and needed a change. I´ve been living with it for 7 years or so, 24/7. Lately I´ve been getting many offers for Halloween events, but at this point it´s out of the question. As much as I hate reunions, but to be reborn once every year for halloween shows could be a pretty amazing thing but I highly doubt it would be an all year permanent thing.We´ll see what´ll happen in the future. What some of all these stupid bands getting back together seems to forget is that you gotta be something in the first place if it´s gonna be worthwhile in the second.

Thomas: Notre Dame had a very artistic approach on stage with theatrical performances and with make-up, stage-props and such. Is this your way to live out an artistic vein that flows within you? Do you practice any other creative things outside the music as painting, acting or anything else? If so please tell us more about it.

Snowy: t really, but I guess that´s how my whole perception on music in general. I used to draw as a kid and occasionally I still do nowadays when designing stuff and making albums covers and so on. I discovered KISS Destroyer when I was an eight year old fan of horror comics, superheroes and all that stuff and it pretty much says it all. At first I couldn't really understand what this LP I held in my hands was, a rockband or comicbook superheroes? Their combination was and still is the coolest thing on planet earth and it changed my life from that moment on and shaped my whole perception. It had the biggest possible impact on me and i guess it still has an effect on everything I do to this day. I have no desire to become an actor or anything but I have sort of promised myself that when I'm old I will pick up and develop my talents for painting. I have just started working for Revolver Film Company building props for the videos and assisting.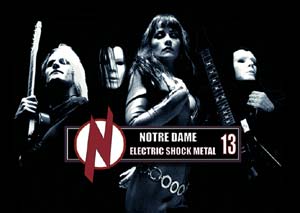 Thomas: To end the questions about Notre Dame what would you say was the best moment with the band and what was the worst?
Thomas: And while I have you answering questions about Notre Dame I would also like to take the opportunity to find out where you are right now with your other projects and bands and not least Dream Evil, so lets start there. Where are you with Dream Evil now? I read that you are about to start recording the follow up to Book Of Heavy Metal, is that correct? And with Peter and Niklas back in the band will this be kind of a seconddawning for the band, are you full of new enthusiasm?

Snowy: We will all get together in the beginning of December and listen to all the new material that that each one has written and then decide what songs to record and where we are heading stylewise. Maby this time we´ll try a new thing of briefly feeling them out in the rehearsal room before we record the songs this time around. But I think we´ll be entering the studio mid to late December sometime. With everything that has happened over the last year or so with constant changes from one week to another, I find it harder to motivate myself like I did when writing the book of heavy Metal. I'm sure we can sort all that out now and come to an agreement of where we should take this spectacle.

Thomas: What can we expect from the coming album, will you carry on with the tradition that you have laid out with the earlier albums? Do you have any working title for the album or songs yet?
Snowy: I have a bunch of ideas of course but we haven't really discussed in what direction we wanna take things this time,for better and for worse Dream Evil is a democratic band, so it's kinda hard to say anything for certain at this point. My own songs are maby a bit more uptempo and faster this time around, but I guess it follows in the tradition since I wrote them especially for Dream Evil and it's my take on what Dream Evil are supposed to be or could be or should be. Some old-some new-some borrowed-some blue, eh..we'll see how things turn out. Here's a couple of titles for some of my songs, all in the good ol´dream evil tradition: Let's Heavy Metal (ourselves to death), Speed Demon, Weekend Warrior, Do the sign, See no evil-hear no evil-speak no evil, I'm a Metalhead, Man of Honour, On hell's hot fires, 21, Alcoholocaust, Glorious, Out of the sunlight.
Thomas: You also have a project together with the great vocalist Mats Leven called S&M, what can you tell us about that? Is it just a one time collaboration or something that you plan to do more of? What musical direction will you be taking with this and how will it sound? And most important, when do we get to hear anything from this project?
Snowy: Mats came to Gothenburg today (saturday) and I hope we'll be able to work a little bit on Monday. He´s just been on a 7 week US tour with Therion and I´ve been busy on my own here, so it´s a bit hard to organize our gettogether sessions. We don't wanna rush things or jump to conclusions with this project. The important thing is that we do music that we both like a lot. We started working together because we discovered during the time that he was supposed to be the new Dream Evil singer that we shared so much influences and musical taste, and I'm talking a rich buffé here that stretches from Bowie to Manowar via Sparks and Ultravox. That is highly unusual and I must say I have never enjoyed writing music together with anyone else as much before this collaboration.
Thomas: On Joacim Cans from Hammerfall second solo album and you are supposed to guest both with vocals and drums if I got it right, how is that going along?
Snowy: Temporarily it´s been put on hold a little bacause Hammerfall decided to start working on new material, but Joacim works in between tours and other duties and so do I. He also wanted me to contribute in the writing, so I have a couple of songs that I will introduce to him within shortly.
Thomas: Are there any further plans for you and Kee Marcello's K2? You competed in the Swedish try outs to the Eurovision Song Contest with K2 and Alannah Myles, that must have been a rather odd experience?
Snowy: Indeed it was! Nothing I could ever imagine I´d be involved with, but what the fuck it was great fun and an experience I wouldn't wanna have undone, eventhough K2 didn't get anything out of it. But I had no expectations whatsoever, I just played the drums and enjoyed myself.It was fun partying with Skara Bert and some other swedish celebrities. I quit K2 several months ago and when I spoke to Kee the other day he told me he had put it all to rest.I feel sorry for him, but I think they are reforming Easy Action again which is probably a far better idea.
Thomas: If I look at your past I can name a number of great bands as Memento Mori, King Diamond, Mercyful Fate, Notre Dame, Illwill, K2, Dream Evil, and please fill in those I have missed. Which of the bands in your past or present do you feel the most proud of have being a part in? And is there anything that you regret with your career so far?

Snowy: There are of course a whole bunch of other bands and projects that I´ve been involved in that never really got anywhere, but you summed most of them up perfectly. King Diamond is probably the band I´m the most proud of, especially since I was involved during those highlight years and because for me it all kinda started there. I don't really have any regrets besides that I wasted too much time trying to ride some dead horse or made some stupid business decisions. But that´s nothing to talk about really, on the bright side of it the only way you can learn is from your previous mistakes.
Thomas: You have played in lots of great constellation and have several projects in the works, what do you feel that you have left to achieve, what dreams and ambitions do you have left?

Snowy: I´m very far off from realizing my dreams. for starters I would love to make an album I´m really satisfied with, and that it would sell platinum at least ha ha!. But time flies and one gotta make a living somehow, so I´m just trying to get by doing the best out of the situation at hand.
Thomas: If you stare into the crystal ball, let's say 2-3 years from now, how do you realistically see the situation to be for you? What would an ideal situation be, according to you?

Snowy: Well, in a perfect world, my ideal situation for my musical life would be to have a good manager and business accountant so that I could consentrate only on the product I'm making. I would have 3 or 4 of my own projects with different approach and styles of music, all signed to good record labels, booking agencies etc who understands what I want to achieve and does all in their power to make it happen. To have a good reliable sound engineer by my side in my studio who could make visions come true.To just write,play and in general make albums and videos for my different projects and do a handful of cool shows or festivals for each project, .Then i would continue doing that until I die or get bored and need to take on other challanges in life. I don't wanna be on the road with one band 9 months a year, that has never been my thing, it depends on the circumstances of course but if I don't get to be creative in one way or the other I'll dry up and die. That's it...but then again it's not a perfect world. 3 years from now, I probably have at least one solo album out by then, and on the side I´ll probably be doing photography, artwork and designs for other artists and bands with my own company White Trash Inc just like I do now. I will also be writing music for other artists and also be working closely with Patric Ullaeus in one way or the other and for Revolver Film Company building props, assisting etc etc,...just like I do now. Other than that I have no clue really, who can predict what´s gonna happen with the music industry that is already now suffering tremendously.
Thomas: And to round this off I would only like to say a big thank you for taking the time to share this with us, and if there is anything more you would like to add and share with the readers of Metal Covenant, feel free to use this last space as you like.

Snowy: Thanks for the opportunity man, despite what rates you gave Creepshow in your review everyone else has given it absolute top notch and the best rates possible. If I may say it myself, if you should own one single album with Notre Dame Creepshow Freakshow Peepshow is the one. And I'm not saying that just because I run the company:buy or,..sigh! because there´s only a very limited edition of 999 copies available...Hurry up and happy Halloween! order directly from whitetrash_records@yahoo.com or from my site www.snowyshaw.com
That will be all for now Snowy, thank you for bringing us the great metal of Notre Dame, Dream Evil and what else you have your fingers in and Metal Covenant wishes you all the best and much of good luck with your future plans.
Keep it heavy.


Related links:
www.snowyshaw.com
www.dreamevil.se