Interview conducted August 16 2018
Interview published September 23 2018

"Our world is too precious to give away to fucking idiots."
German metallers Primal Fear put out their 12th full length studio album Apocalypse on August 10th and about a week later Metal Covenant met up with bass player Mat Sinner at Sabaton Open Air to listen a little bit to his views on their new making.

Tobbe: You have chosen to call the album Apocalypse and is that what's about to happen with the world according to Primal Fear?
Mat: Yeah. I talked to everybody that this was not the right time to write 11 love songs and tell the people how nice the world is. It's getting more and more strange and the people who are in charge in the most important countries are going strange. In my view it's very important that we get back to a level where we respect and realize how nice it is on our planet. Look outside and see how beautiful and nice it is.

I hate, the whole time, that people and politicians who are elected are talking in a very rude way about things and I think it's getting really dangerous. So let's see what will happen. Maybe the world will come to a point where they say "It's enough now. Get back to the basics and try to find a way to get some basic ideas back to our world.". If you listen to Trump; he says that global warming is just fake news by China. And what can I say? It's fucking stupid. Did you ever have such a warm summer in Sweden? You see? But I'm not only here to talk about politics.
Tobbe: But we know a lot more about politicians and their politics now than we ever did back in the day.
Mat: Yeah, but that's my view. My personal view is not representing the world. I can only speak for myself and if I'm writing lyrics I can write how much energy it costs me to fuck the last girl, which is fucking stupid, and it's not enough substance for a lyric on an album at the moment. So we talked about the apocalypse and raised a finger and said "Guys, come on. Our world is too precious to give away to fucking idiots.".
Tobbe: Musically, Primal Fear has always come out with a certain style of heavy metal, even from the start, and is it even possible to, like, take your music to a different direction today?
Mat: Who would like a different direction of Primal Fear? I have my other projects, like Sinner, and I can make hard rock music and stuff like that. If I wanna do different music I can do it with other people. If you have Primal Fear on the outside, Primal Fear is on the inside. We've toured the whole world and we have very loyal fans in every little corner of the world, so why should we do something that they don't want to hear?

If we come up with something great and innovative and make a fucking jazz rock album, wouldn't we disillusion a lot of people in the world who have been keeping the faith for a long, long time? So I don't agree with people who've said "Oh yeah. You know, Primal Fear is doing another Primal Fear album.". But I have to say that this time there's been 99 percent wonderful feedback, so it's not a question that people expect something different from Primal Fear.
Tobbe: The last couple of albums, and some of the other albums as well, have an epic song, like 8-10 minutes long, and do you think that's also maybe the most important song on the albums, like Eye Of The Storm this time?
Mat: I don't think it's the most important song on the album. The most important song could be just 3 minutes long if it's a great one. But for us it's a musical challenge and a journey we need as musicians. We don't want to record an album with 10 3-minute songs.

In our little world we can do different things, like with Supernova, where at one point we said "Okay. It is orchestral" and we worked on strings, which is important for the atmosphere of the song. And the same with Eye Of The Storm, like a tradition of Primal Fear. For example, if you listen to Best Of Fear [2017], the last best of album, you have a whole CD of these songs.
Tobbe: You filmed a video for the song King Of Madness and did you pick that song because it is, maybe besides Supernova, the most melodic song on the album
Mat: No, no, no. You know, to choose a song to present a band is always like: you can ask 20 people and you'll get 20 different answers. So there were some people who said "Why did you choose that song to present the new album when the others are much better?". Well, I'm responsible. As the producer of the album I have to make decisions. The worst thing is to make no decision, so I better make a decision. In the end you never know if it was the right one. For us, the band, it was the right decision and so be it.
Tobbe: Apocalypse is Primal Fear's 12th album and when you first started the band, could you ever imagine putting out so many records with this band?
Mat: I didn't think about that. It was just 3 guys from one town starting a project, made a demo, hired a drummer, sent it to Japan, got a record deal, got a record deal in Europe, charted top 50 for the first time in our life and said "Wow!". That was the start of this band for us and nobody thought at that point about any construction to be famous or so. We really did what we wanted to do.

If you take the last 3 albums, Delivering The Black [2014], Rulebreaker [2016] and Apocalypse, it's still the same formula, it's still the same 3 guys. I'm very proud that the guys who are the founders of the band, Ralf [Scheepers, vocals], me and Tom [Naumann, guitar], are still here, which is very nice.
Tobbe: It's been 20 years since that debut album and what have you guys done to celebrate that album so far?
Mat: We celebrated it on the 70000 Tons [Of Metal] tour. We were in the Caribbean, we played two shows, we partied hard and yeah, we had a big celebration. And then we had so many ideas; we said "We have to do a new album." and that was when we decided to release Apocalypse in August and start the tour in September.

The tour will have a very special setlist with of course new songs and of course some songs that if we don't play them the people will be angry, and there will be some nice surprises. We have a very special setlist and this is for us not only the Apocalypse tour; it's also for us the tour of our 20th anniversary.
Tobbe: Could you ever imagine a Primal Fear record without Ralf singing on it?
Mat: No, I don't think that will happen. We have been together since 20 years and if he wants to stop I will have some other musical challenges. But then Primal Fear would be over. For me there's no question about it. We're very loyal to each other and that's why we still work together after 20 years.
Tobbe: You mentioned having other projects as well and is it very important for you to kind of separate Primal Fear from the other projects?
Mat: Yes, absolutely. There was a point, in 2003 I think, where it just sounded like the same band with two different singers, where we said "Stop, stop, stop! We have to do something. This is not good.". That's not a good evolution. I really pushed my own band, Sinner, back to hard rock, so it's not conflicting with any Primal Fear stuff.
Tobbe: I guess that's also a reason why you still have Sinner, because you can experiment and do whatever you want to in that band.
Mat: Yes, but the band is still very successful in Germany, so. The people wanna hear the band, so if we have a little free time we'll play. And now we're going to Japan. Japan wants both Primal Fear and Sinner. And Australia and Russia too, so we'll play double concerts, and that's fine for me.
Tobbe: Can you describe the difference between playing live with Primal Fear and playing live with Sinner?
Mat: With Primal Fear I'm singing on every song too, so there's not a big difference. The difference is that I make every announcement with Sinner. I'm a very different character than Ralf. So my speeches are very different. I'm louder than him and I'm more rude than him.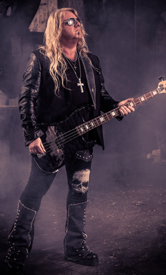 Tobbe: And you're also a part of Alex Beyrodt's Voodoo Circle and how do you look at your own participation in that band?
Mat: That's a friendship thing. If I have free time I will support my friend Alex, because we're friends since 30 years. I will support him. If he wants to do an album I'm there for him. This is friendship; this is not my musical baby. I'm writing songs for that thing, I'm helping with the production, but it's more Alex's solo thing and he's one of my best friends and I will help him.
Tobbe: And you also made an album with Level 10 [Chapter One, 2015] and you were playing on Jørn Lande's last record [Life On Death Road, 2017].
Mat: If I really love the singer I have no problem to play on an album. It doesn't cost me a year, like with a Primal Fear album. It costs me a couple of days and if I'm really convinced that the singer is a good guy and a friend and I like the music I can do it. Why not? So it's like that with Jorn and with Russell Allen. I like both albums and they're good guys.
Tobbe: Your bass play is somewhat different with each band and how do you look at playing bass in different ways with different bands?
Mat: You know, I've learned a lot in the last 10 years doing Rock Meets Classic with the symphony orchestra and playing with Ian Gillan, Joey Tempest and Alice Cooper. If you perform with these guys standing beside you, you have to deliver. There is no room for fuck-ups. So I'm like a chameleon; I can do it.
Tobbe: When you play the bass lines with different bands or different projects, do you always write your bass lines yourself?
Mat: Of course. If he wants me, he gets me. I've turned down stuff where there were discussions like that and "If you want Mat Sinner on the album, you get Mat Sinner on the album. If you just want my name… [Makes a disapproving gesture.]".
Tobbe: You know, a lot of kids wanted to play the guitar in the beginning and why did you eventually end up playing the bass instead of playing the guitar?
Mat: Because we were a trio. We started as a 4-piece, stripped it down to a 3-piece and the other guitarist was much better than me, so I ended up on the bass. And from that point I'm enjoying it. It's quite okay.

Related links:

www.primalfear.de
www.facebook.com/primalfearofficial