Interview conducted July 21 2010
Interview published July 29 2010
California based aggressive female-fronted act - In This Moment - are currently tearing it up this summer, blazin' on the road, during the Mayhem Rockstar Energy Tour. They are fulfilling the promise by creating their own beautiful tragedy with material from their new album - 'A Star-Crossed Wasteland'.
While this event finally came to Cincinnati, I had a chance to sit down and converse with guitarist and founding member - Chris Howorth. I apologized for my ignorance of the music, but was open to learning as much as I could about these dreamers who are quickly creating quite a name for themselves.

MettleAngel: I am so grateful that I was able to interview you. Originally I was supposed to be speaking with Maria Brink.
MettleAngel: The confusion based on your new Tour manager has paid off. When I met you earlier today, I got a really good vibe, and I sensed that I might get to interview you this evening.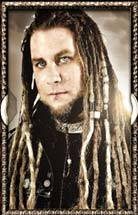 MettleAngel: Honestly, I am not too familiar with the band and your music.
MettleAngel: Your style of Metal is less appealing to me. I did receive a promo which I played in the hotel room in Chicago, when I went to see Maiden.
MettleAngel: Yeah, with 18,000 other screaming fans. We received free tickets for the pit, so it was a no brainer. The other album I had to listen to in the hotel was the new self-titled release by Seven Kingdoms. Once I heard this masterpiece, it was difficult to return to the screaming sounds of 'A Star-Crossed Wasteland'.
MettleAngel: They too are a female fronted act from Florida. I have their debut album, which has more of an Amon Amarth meets 3 Inches Of Blood feel. I was not expecting too much when they hired a chick to sing, but let me tell you, this is the best female fronted album of the year!
MettleAngel: Trust me this band who are to play a preshow at this year's Prog. Power are the band to hear. The music is so melodic, and there are still those classic "Beauty And The Beast" elements ever present.
MettleAngel: Nightmare Records have finally signed the right band. Sabrina Valentine's vocals are superb. She sort of reminds me of Sarah Brightman. Anyway, we should be talking about In This Moment. I apologize for my lack of awareness of the band. I have not even heard the Blondie cover of "Call Me".
MettleAngel: No, I never play the radio. I did read a really good review for the new album at Bravewords.
MettleAngel: This made me a bit more inclined to check you out. We did see you at Ozzfest a few years ago with 3 Inches Of Blood, and Lordi. Since we have now seen you live twice, I am trying to broaden my horizons.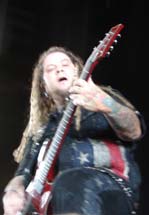 MettleAngel: I see that Century Media is providing you with strong support.
MettleAngel: Who knows, you may be the next Lacuna Coil.
Chris: This buzz is definitely not wrong. We have been around since 2005, and this is our third album. We wanted to give the fans what they wanted by making this new album more heavy and more metal than our previous outing.
MettleAngel: So, your sophomore effort was more commercial?
Chris: We have a strong and loyal fan base, and we do not want to let them down. Being on a high profile tour like Mayhem, allows us to gain a wider audience. We feel that the new album is exactly what everyone was expecting from us.
MettleAngel: Well, once I got beyond the screaming opening track, I did notice that there was some melodic elements, and I could finally hear Maria sing. Looking at the shirt my wife is wearing. I guess you could say ITM are like Crisis.
MettleAngel: In '94 Karyn Crisis epitomized this femme fatale female convulsive approach with her unique vocals and stage presence.
Chris: The main difference with ITM, and many female fronted acts, is that there is no middle ground. You either have gruff vocalist like Angela Gossow of Arch Enemy, or pop singers like the girl in Paramore.
MettleAngel: ...Or Halestorm, I see what you mean. Maria has the ability to sing clean or harsh. Francine Boucher of Echoes Of Eternity can do this as well; whereas, Laura Nichol from the now defunct Light This City was mostly a growler.
MettleAngel: Is she influenced by punk ladies like Wendy O' Williams or even Joan Jett? That "Runaways" movie was quite impressinve with Dakota Fanning playing Cherie Currie, and Kristen Stewart doing Joan Jett.
Chris: Not at all! She stems from a more pop oriented influence like Madonna, or even now, Lady Gaga.
MettleAngel: I respect Madonna, but despise Lady Gaga! What about Cyndi Lauper?
MettleAngel: So she has more of that Lilith Fair essence?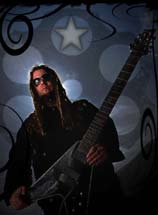 MettleAngel: I guess that includes screaming on stage wearing a yellow dress, with tattooed sleeves.
MettleAngel: Sometimes she reminds me of Candace Kucsulain from Walls Of Jericho. I really prefer to hear Dawn Of Destiny, Edenbridge, or Marta Gabriel from Crystal Viper and now Börn Again.
MettleAngel: I assume you mean a melodic death influence?
Chris: What some people call melodic death with twin guitar harmonies, I call Maiden. I love all the '80s Thrash, Classic, and even some Pop, like Dokken and Stryper.
MettleAngel: I would not call Dokken or Stryper Pop, but I see what you mean. Speaking of Stryper, I have heard that you are a Christian band.
MettleAngel: The name, how so?
Chris: Yeah, In This Moment has a non threatening vibe, and it carries with it a positive message like, "Live for the moment."
MettleAngel: That is a great message. We just watched Monty Python's oratorio - "Not The Messiah" - where Eric Idle modifies the "Life Of Brian" movie into a Classical score, with all active Pythons present but John Cleese.
MettleAngel: It is amazing with all the choirs, vocalists, and musicians. Even Maiden uses "Always Look On The Bright Side Of Life" as their closing music.
MettleAngel: But you are not poseurs like Megadeth! I just spoke with Sean Peck of Cage, and he had the same attitude about Metal and religion. Metal is my religion.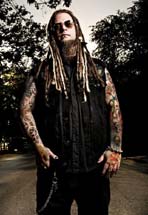 MettleAngel: I can do without the guilt, fear, anxiety, and proselytizing of religion. Metal is my bond based on truth, honesty, and love.
MettleAngel: Hell, even Helloween and Metal Church were viewed as being Christian back in the day. Gamma Ray have a song called "Pray". I love '80s Christian Metal. A song like "Stress" by Believer sums up your attitude.
MettleAngel: I could tell that when I met you. When I first heard the name of the band, it reminded me of Led Zeppelin's 'Presence'. I am all about living in the moment, and focusing on service.
Chris: You have the right attitude!
MettleAngel: Many names of bands just go over my head, but your does not. We were at the zoo with our son, and we were learning all about the Komodo Dragon, what a beast! Apparently he is a descendent of the Monitor - another great metal band name! I am amazed that your band is not at Metal-archives, but then again you did get a full page at Wikapedia!
MettleAngel: Well it is well deserved. I wish the band all the best.
Related links: