Just a few minutes before In Flames entered the stage at Hovet on the Unholy Alliance Tour II, Metal Covenant managed to get a hold of drummer Daniel Svensson, who shared his thoughts with us on matters like loudmouthed fans, how to keep the fire alive and which In Flames-album he likes the most.

Niklas: You have toured with the Come Clarity-album for almost a year now. Are you pleased with how the new songs have been received?
Daniel: Extremely pleased. This has been the best reception yet, but then again, we say this every time because it goes better with every album. We couldn't be happier.

Niklas: Now that some time has passed since the album was released, how do you think it compares to the previous records?
Daniel: You kind of always say that the latest album is the best. Now we have been out for quite a while and really tried out the songs, and I haven't changed my opinion that this is the one that feels the most complete, musically speaking. It's lots of new stuff, but still In Flames. It feels like we have found the perfect mix between melodies and aggression, which is our trademark.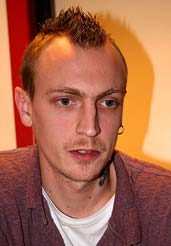 Niklas: On the Unholy Alliance Tour II you can't play as long as you do when you perform on your own tours. When putting together a set list, do you try to speak to as many people as possible or do you just play the songs you like best personally?

Daniel: It's always difficult, but obviously we can't play songs that we are entirely fed up with, there must still be a spark somewhere. First and foremost we try to include a few tracks from the latest album, to promote it. Then we try to mix it with as much of the older stuff as we can cram in. I mean, just the five of us have troubles to agree on which songs to play, so to keep each and everyone in the audience completely happy is obviously impossible.

Niklas: You've been forced to perform without your guitarist Jesper Strömblad on this tour. How is he doing and when is he expected to return?
Daniel: He's doing fine and will be back after Christmas. Everything has worked really, really well with his replacement Niklas Engelin, who stepped in with very short notice. On our first gig together we couldn't even hear that we had another guitarist on board, he's done so much for us and we are eternally grateful.

Niklas: Wasn't he part of the band once?
Daniel: That's right, even before I joined the band, actually. He never played on any album, though. He was a full-time member of In Flames during a period between Whoracle and Colony, so we know him since before. Nowadays he plays in a great band called Engel.
Niklas: There have been talks about a few In Flames-shows in Sweden next summer, which are rumoured to be something "extra". Considering the spectacular performance you gave in Hultsfred this summer, it's hard to imagine that you could possibly top that.
Daniel: There are always things you can do better. But yeah, that show was almost a bit over the top. (laughs) For a while there were talks about three concerts in Gothenburg next summer, but I believe that we'll only do one. Anyway, we'll try to think as hard as we can to come up with something truly special for these concerts.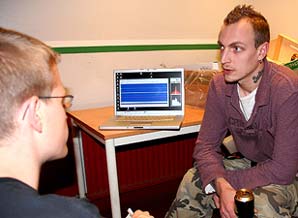 Niklas: You've been praised by the media countless of times, and each album you release sells even more copies than the previous one. How do you keep motivating yourself and do you never get tired of all the success?
Daniel: You can never have enough of success, but if things were starting to stagnate and we would be playing in smaller venues than before, I would probably have trouble motivating myself. I mean, we all have families and children and it's tough to be away from them eight and a half months each year. There are moments when the touring is not that funny, you know? Anyway, we release an album, work hard promoting it with tours and that's it. We don't have the kind of pressure on us anymore that new successful bands have, when they suddenly have to make a second album which sells just as much as the first one. We've done eight albums now and all of them have done well, so we don't feel any pressure whatsoever, not even from ourselves. It usually turns out fine in the end.
Niklas: So you haven't made up a plan how much longer you will continue and how many more albums you will make?
Daniel: No, we keep on taking one album and one tour at a time. We're getting old and we all have families and kids. If my wife would put her foot down and say that she can't take this anymore, I would understand and definitely consider quitting the band. At the moment I don't see an end to it though, so we'll probably be around for many more years to come.
Niklas: When playing together for so many years like you guys have, are you still good friends with each other or is it more like work-mates who must work together whether they like it or not?
Daniel: We're still friends, but we don't see each other when we are at home and not working. When I'm at home with my family I prefer to shut everything else out. But we get along surprisingly well after all these years, I know some bands that don't talk to each other off the stage. But we're still friends, and by now we know which buttons to push. Of course there is the occasional arguing, but that's just normal.
Niklas: You have many loud fans that prefer the old In Flames-albums…

Niklas: Yeah, and these fans would most likely want you to only play old songs on your concerts. Do you listen anything to these fans or do you only listen to yourself and do what you believe works best?
Daniel: We obviously do what we believe in ourselves, but we have actually given many songs from The Jester Race a chance. And almost every time there is no reaction from the audience, they just stand there looking confused. Tonight we play one song from The Jester Race, Graveland, but the truth is that the new songs work better with the people that come to our shows. I mean, why should we listen to two guys on some Internet forum, when the majority clearly likes the new material better? Since the really old songs were never written to be performed live, the effect is not the same. They are simply not much of live-songs.
Niklas: With that in mind I still have to ask, on behalf of my cousin, if you ever will consider playing Stand Ablaze live again?
Daniel: That's not impossible at all, since we have done it before. Then again, that's a really obscure track and therefore nothing we bring out on a tour like this when we have only 50 minutes to play. But I would not rule out the possibility that we will play that song on a future headlining-tour.
Niklas: Finally, I would like you to name your personal favourite out of every album in the In Flames-catalogue, and you cannot select the latest one.
Daniel: If I can't pick Come Clarity, I would say Reroute To Remain. I don't know what the others in the band prefer, but I believe that we're a bit divided on that question.
Related links: