After having received Graveworm's recent hateful design "(N)Utopia" in the mail one day prior to seeing them live, the wife and I threw the CD in the car and instantly tried to familiarize ourselves with this excellent Italian band. During the show I must have been dreaming into reality as I was able to create the time to spend with these legions unleashed and overcome any abhorrance. I had the unique privilege to spend some quality time with vocalist Stefan and keyboardist Sabine, and ask them a few pertinent questions.

MettleAngel: Why did you choose the name Graveworm? Was it a reference from the movie - "Lair of the White Worm"?
Stefan: We all loved death metal when we formed this band, we were listening to bands like Cannibal Corpse, Napalm Death, and Atrocity, so we looked in a dictionary and came up with the name Graveworm.

MettleAngel: You mean it doesn't have anything to do with "the worms crawl in, the worms crawl out...." song?
MettleAngel: What style of metal would you classify Graveworm as being?

Stefan: We consider ourselves to be "Dark Metal". We're not exactly Black, we're not exactly Death, we're not exactly Goth; but we strive to incorporate aspects of each. (This was later evidenced as Wendy and I watched members of the band dance around to sounds of Stuck Mojo after the show, when we were on the bus)

MettleAngel: Why did you decide to cover R.E.M.'s "Losing My Religion"?
MettleAngel: It is an excellent cover, although you are familiar with it's actual meaning and intent, correct?
MettleAngel: And your choice of Iron Maiden's "Fear Of The Dark"?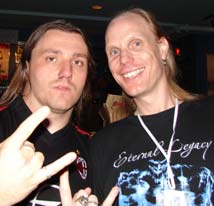 MettleAngel: Iron Maiden is my favorite band and your version of "Fear of the Dark" is my favorite rendition of that song. I love the violin intro and the Bruce Dickinson meets Shagrath vocal style. How has the response been to "(N)utopia" and this your first US tour.
MettleAngel: Has Nuclear Blast provided you with quality promotion?
MettleAngel: I hear you have plans to reissue one of your earlier CDs, how is this coming along?
Stefan: Yeah, we really want to do that, but we're having problems retaining the rights from the label. So right now we are focusing on our new CD, we plan to go into the studio in November and have it out sometime in February.
Next I questioned Graveworm's keyboardist Sabine, who is also a licensed psychologist.
MettleAngel: How long have you been playing keyboards in Graveworm?
Sabine: I've been in the band for 11 years, back then I was just a young teen age girl, and I was not a fan of metal.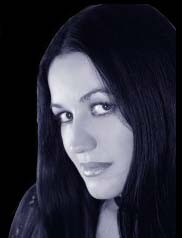 MettleAngel: So I hear you're a psychologist, what aspect of psychology do you practice?
Sabine: I practice clinical psychology and I counsel teenagers.
MettleAngel: So what aspect of clinical/cognitive psychology do you practice and who are some of your favorite renowned psychologists. Personally I like Adler, Abraham Maslow, and Soren Kierkagaard.
MettleAngel: As a clinician or a therapist do you practice empowerment?
MettleAngel: This is when you help the client to overcome his victim energy and have him take responsibilty for his own actions. You know the old addage "give a man a fish you feed him for a day, teach him how to fish and he'll feed himself for life". I sense that you are intuitive and that you empathize with your clients. Wendy and I have also done counseling and tried to help people assume responsibility for their own lives. I also sense that you were raised Catholic. How does this factor into your working with troubled youth?
Stefan: I don't really practice (Catholicism) much anymore as there are so many aspects of my childhood that were too scary for me.
MettleAngel: I was referring to the role of the Saints and how they dedicated their lives in servitude for the betterment of humanity; and not that fear -based, dualistic demonology which is inculcated upon us at such an early age, due to dogmatic nonsense.
Sabine: All that stuff scares me, I don't even like scary psychological movies. (Also, we later discovered that she does not like big, black cockroaches)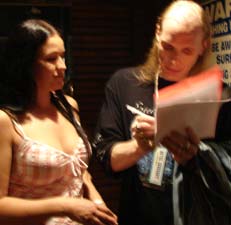 MettleAngel: Switching gears, whats it like being the only woman in this band and on tour with all these other male bands?
Sabine: Oh it's a lot of fun, they're always looking over me, their like my big brothers.
MettleAngel: So your just one of the guys, just hanging out, and having some fun?
Sabine: (Nods)Yeah, we are all having a good time.
MettleAngel: Doesn't it hurt your neck doing the headbanging windmill onstage?
Sabine: No, you get used to it, but it's just so hot, I have to take a look at a map to see where we are, but it's so hot around here. The other night while we were onstage and the air conditioning was broke and it made playing very difficult for us.
MettleAngel: Other than the excessive heat, has the tour been a lot of fun?
Sabine: Yeah, were having a really good time, we're really enjoying ourselves.
MettleAngel: Thank you so very much for taking the time to indulge me.
Sabine: Oh no, it's no problem.


See also: review of the gig the same night 2006 06 06 »»
Related links: