Interview conducted June 21 2009
Interview published August 07 2009
I have been planning my interview with: Till Oberboßel - of the Frankfurt Epic Power Metal act - Elvenpath, for over a year now. Thankfully, I wrote a promising review for the 'Spyrol' album in the last ever print issue of Brave Words & Bloody Knuckles.
For some reason or another, and due to my ill health, the interview was delayed until June, Father's Day, to be exact. Then, more mishap occurred, and parts of the interview were lost, once re-written. Finally, I've been able to fill in the missing fragments, and present you with our inspirational discussion. Join us on the eternal quest, as we explore new gateways to the ever moving and evolving realm of Elvenpath.

MettleAngel: Hello Brother, at last the moment is at hand when we get to converse. I apologize for all the delays. God knows this interview has been pending for months. I do sincerely believe that timing is everything. All good things come to those who wait, it seems.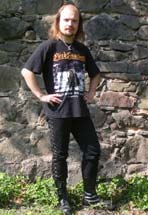 MettleAngel: I first heard about you when I read my fellow writer - Thomas' review in July of 2008. After that, I checked out your My Space songs. I felt that he had not fairly represented the music, in either of his reviews, as he attended to 'Gateways', too. I contacted you about writing a review for BW&BK, as then I was writing for them, as well.
MettleAngel: I did just that. The CD review appeared in issue #113 with Metallica on the cover. How was I to know that it would mark the demise of the print issue of that magazine, as well as Metal Maniacs, and several others?
MettleAngel: Apparently, several popular Metal 'zines lost all their advertising benefits, when most labels switched to a digital format. This is why when you now visit www.bravewords.com you will see advertisements for Jergen's soap!
Till: It seems like the whole music business is really changing, and perhaps not for the best. It's sad to see another worthy magazine going down and calling it a day. Although I like webzines too it's something different to have a proper print magazine in your hands. Just like I prefer a real CD over an mp3.
MettleAngel: Yeah, many labels are suffering the ill effects of illegal downloading. Rumour has it that SPV is in the red. Anyway, I don't want to begin on a down note. I'll assert with a positive intention. Let me first state that I feel your spoken English is excellent, I was expecting a stronger German accent, given that you are from Frankfurt, like my brothers in Tankard.
Till: I know the guys in Tankard, too. I studied proper English for many years now, I'm relatively fluent, and this is how I speak.
MettleAngel: It almost seems like you have an Australian proclivity, like Lord Tim, Steve Rowe of Mortification, or Jason Hodges of Ilium. As I was saying earlier, timing is a factor in this discussion; because, now you can comment on your "Keep it True" experience, and I on the Slaughter show, which I recently attended. I sent you an E-mail about this. Who would have thunk the opening act" Lorenzo, who played upbeat and straight hard rock like: F5, Disturbed, The Offspring and even newer Green Day, would consist of ex-thrashers like Jason Viebrooks, Steve Jacobs, and Ira Black? Jason and Steve live right here in Cincinnati! Lorenzo does the theme music for the new season of MMA wrestling: here.
MettleAngel: Definitely, look at the current line-up of Foreigner with Kelly Hansen formerly of Hurricane, and Jeff Pilson of Dokken. What about the fact that Michael Sweet is fronting Boston. I hear that Stryper will cover "Peace Of Mind" on their new album - 'Murder By Pride' due out soon. They will be touring this fall with all original members in full Yellow & Black attire, playing all the classics. I'm super stoked; because they will be coming here in October!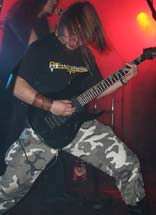 MettleAngel: I really love the music of these bands, and acts like Lorenzo. Perhaps, I'm showing my age, but this '80s vibe really resonates more with me, than the newer material by more championed acts. They are all quality musicians showing their talent, just doing what they love to do. So tell me, now that we have clearly broken the ice, what is new with Elvenpath?
Till: We have a new line up together after spending several months looking fort he right guys. We started playing live again and had the chance to support Cage when they played here in Frankfurt. For such a highly praised American act, attendance was rather poor - about 70 people showed up and as I heard, it was similar at most shows. Butt his didn't stop Cage from delivering a killer show. They are a great band and even enjoyed watching us play.
MettleAngel: The new Cage is killer! I'll be reviewing that for www.metalcdratings.com. They are so talented, and almost borderline classic Speed Metal. I'm originally from San Diego. I know their drummer: Norm Leggio real well. He is the owner of an awesome CD & vinyl shop called Blue Meannie Records. Wow, I would think more metalheads would attend a show of that caliber!
Till: This is normal for the Frankfurt area. The shows are becoming less, and less attended. I don't know why but apparently the local fans don't take much interest in smaller bands. If Edguy or Hammerfall is playing the place will be packed but there are few people interested in the underground.
MettleAngel: Explain to me about the foundation for the name Elvenpath. There has been some controversy concerning this. Is it taken from the Nightwish song?
Till: Yes, but we are not a Gothic Metal band, we enjoy fantasy, and other metal concepts.
MettleAngel: I am aware of this, but I assumed the name had a more Tolkien based background. Elvenpath is essentially a band beyond description - pure Teutonic Steel! I clearly hear influences from Stormwitch, Gamma Ray, early Hammerfall, Running Wild, etc.
MettleAngel: (laughing) I can see that. However, Dragonsfire is another awesome German act, who remind me of classic Twisted Sister. I reviewed their new album for the same site where Cage will be published. I can see your point though. I realize that you are a dedicated fan of Tolkein, so I assume the name serves the band well.
MettleAngel: Wow, that is dedication, that reminds me of Blind Guardian, as 'Nightfall On Middle Earth' is a synopsis of the Simarillion. Kindly tell me the meaning of the title track for 'Spyrol'. I looked it up, to no avail.
Till: Actually, it is a combination of two words: "spiral" and "pyro". The imagery on the front cover clearly demonstrates this. We see it as a symbol for war, poverty, dictatorships, and all types of conflict. When one evil ends, another begins. It has this type of spiraling effect. Our bass player: Christian Flindt came up with the idea. The name, we feel, has a strong tendency to create a certain atrophy, or wearing away, and disassembly of the faculties, befaced.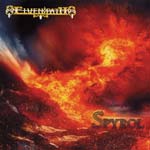 MettleAngel: Oh, I get it like with Toby's Avantasia, which is a combination of Avalon and Fantasia. Spyrol affects the dichotomy of systematic breakdown. In effect, a burning cyclone where everything just spirals down into total conflagration.
MettleAngel: Now it is starting to make sense to me. Martin is my favorite lyricist too. I interviewed him last year, Have you heard his Clan Destined material? I'm sure he would appreciate Elvenpath.
Till: I haven't heard Clan Destined yet. Hopefully I'll have the chance to meet Martin some day and present him a CD of us. I'd be interested in his opinion, espaecially the lyrics. We actually toured with Skyclad, a few years ago. Kevin Ridley is a great frontman, but I'm disheartened by the fact that Skyclad will never be what they once were.
MettleAngel: I agree totally. I'm considering reviewing the new album, which is really laconic, and not too engaging. Don't get me wrong, it is good music, but not landmark. Kevin is trying way too hard to emulate Martin, a fiasco which began on the: 'No Daylights Nor Heeltaps' tribute to the past. I feel that a five years gap since: 'Semblance Of Normality', with only the: 'Jig-A-Gig (EP)' in between is far too long to wait.
Till: I have not heard the new album, as of yet. I guess Skyclad will always be regarded as "the band that once had Martin Walkyier in their ranks". Which is a bit of a shame actually because they deserve better. I still enjoyed them live and think they deserve more attention than they get nowadays.
MettleAngel: Tell me about the song - "Northern Son" - as I commented in my review for the last issue of BWBK, now a collectors item, You truly honor Quorthon of Bathory. The song style and lyrics are all great.
Till: Bathory is my favourite band! I have become a true fan ever since I heard: 'Twilight Of The Gods'. I love all their epic Viking albums. When Quorthon died so suddenly it really affected me. His music and lyrics have really helped me get through some difficult situations. I wanted to write an elegy to his triumph, to properly honour his legacy, so I suddenly felt inspired and wrote this song with lyrics mentioning Bathory songs. I'm very satisfied, I feel I did him justice.
MettleAngel: This is how I feel about Martin of Skyclad, and I told him so. Have you ever contacted Black Mark Records, or the Bathory Fan Club about this song?
Till: Gerrit P. Mutz of Sacred Steel and Dawn Of Winter, is married to the biggest Bathory fan in the world. His wife is a huge Bathory advocate and devotee. I contacted her about it, but received no reponse. You should see her Bathory collection! She has a myriad of T-shirts.
MettleAngel: I remember back in the day buying the three 'Jubileum' albums, just to get the rare songs. I had a few CDs, but some were difficult to track down. I prefer the Viking albums, to his earlier blackened thrash. 'Blood On The Ice' was an angry comeback. I'm amazed how many new kids into metal don't even make the association with Amon Amarth's latest album title! It is a shame Gerrit's wife never responded. Right before Quorthon passed, I read and interview with him, where he acted like a Gene Simmons type figure, claiming it was all a gimmick just to get himself laid.
Till: I would never dismiss Quorthon! I mean sure, he may have attempted to shatter his old monument, but I truly honour his life's work, and all his accomplishments.
MettleAngel: Let us briefly discuss your debut album: 'Gateways', was this self produced?
Till: Yes, and honestly, we regret that because we did not have the money to do it properly. We may re-record those songs someday with better arrangements. I still like the songs very much but the arrangements could have been better and the production is simply awful. So I believe the songs should be re-recorded in a better way but first we want to put out newer stuff.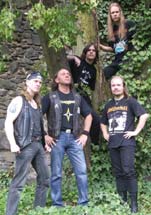 MettleAngel: Do you still perform a few of the 'Gateways' songs live?
Till: Yes, we do, and we also add a few cuts from our 2002 Demo. As I said, the songs themselves are still fine to us and some of them are among the audience's favourites.
MettleAngel: Does this include the song "Eternal Quest", which you did for the 'Dark Music For The New Millenium' compilation by Nebula Records?
Till: Yes, "Eternal Quest" is from our first demo. It's only five minutes long, and more accessible for an EP, compared to most of our songs which are fairly long.
MettleAngel: What ever happened to Anastasia Schmidt? I know that she played guitar on 'Spyrol'?
Till: Ana left last year as did Tim Zahn, our vocalist. Ana has an almost all girl symphonic metal band called: Arven. She was too preoccupied with that commitment, her job, and new boyfriend, to commit to Elvenpath. We lost our drummer: Markus Weitzel too. The Cage show was the first time we played live in almost a year. We solidified our new line up in February and I'm really happy with these guys. The new line up works well both on a musical and on a personal level so I dare say that our line up changes might have come to an end finally.
MettleAngel: I have sampled some songs of Arven at their My Space, and it sounds promising. Your new line up is now: Dragutin Kremenovic on vocals, Oliver Rossow on guitars, and Boldie von Herbolder on drums, right? Did you play any new songs?
Till: No, but we are working on newer material. We all want to play these songs live though, but not before we are ready. I feel a live setting is an excellent way to get the song where you want it to be, before recording them.
MettleAngel: I agree. Tell me about your Angel Witch Cover of "Loser" which can be heard on your MySpace.
Till: The writer of Unbroken Metal asked us to contribute to the compilation. We did not know what song to pick, at first. We knew that we did not want to select a hit, so we voted for an obscure, lesser known one. "Loser" is more commercial, and released before the debut album.
MettleAngel: Being from Frankfurt, you mentioned your familiarity with Tankard. Gerre is another great lyricist who combines words, like the song "Ice-olation". He is very witty. I always enjoy interviewing him, too.
Till: Those guys, they are my neighbors, we run into each other at the pubs, frequently. I too was once a social worker, like Gerre has been for all these years. I really admire his dogged persistence. That job can be so demanding, dealing with drug addiction everyday. I respect what he does. Sadly, I could not continue working in that environment, and under such harsh conditions. I also write for a German metal zine, once a year, so I respect what you do, as well.
MettleAngel: Tell me about your experience watching all those American acts play Keep It True. Ira Black is no longer with Lizzy Borden, he now plays in Lorenzo, whom we saw open for Slaughter, as aforementioned.
Till: Keep It True is always a fun time! There were lots of people wearing the most obscure T-shirts around. Then there was plenty of leather, spandex, and lace. It was like a fuckin' catwalk. Music and image are everything to these fans. Us Germans have the greatest respect for Classic US Metal, which has achieved a certain cult status. And KIT has become a very international festival - you'll find plenty of fans not only from Germany but also Greece, Italy, Spain, Sweden, Netherlands and more countries there. The atmosphere is great and of course a lot of great bands are on so a good time is guaranteed. You should come over and experience that one day.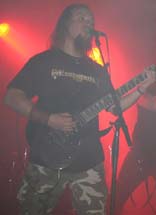 MettleAngel: I know many of those metalheads who attend and wear obscure shirts. It's similar to the Cleveland scene. A local '80s era Cincy Classic act - Thruster - almost sold out of the very first vinyl pressing of their '87 debut, which was then only released on cassette format. Tell me about the new songs which you are now writing.
Till: Elvenpath always writes about a variety of subjects, some serious, some just for fun. The new line up has just mastered older songs. We are only experimenting with some new ones. As for the music, our style won't change that much as we're happy with what we're doing. We're just trying to improve and write better songs with better arrangements. We hope to have a new album out by 2010. We are confident that it will be our best album yet!
MettleAngel: I will look forward to reviewing that. Elvenpath, like so many great independent US bands such as: Eternal Legacy, Lunarium, Zephaniah, Widow, Viper, Shadows Entwined, etc. all deserve better recognition. This is why we do what we do. This is precisely why Wendy and I are creating our own site called: "Mettle Milieu" with no letter or number ratings present in the review. The content is the key. We hope to be going full speed by 2010.
Till: When I do an interview for the German 'zine I do my research, and try to avoid obvious questions. With Elvenpath, we often get judged just by our name. People don't even take the time to listen to the music. This has always frustrated me.
MettleAngel: This is sad, because your music is awesome! The internet has made people lethargic. The joy of reading has waned, and the knowledge of speaking eloquent proper English, as you do so well, is now a fading legacy.
Till: Everything is changing, and so damn fast. In the past, when it came time to indulge in a metal rag, you would celebrate the moment with an alacrity for reading it from cover to cover. I like to sit on the couch, put on some music, and dive into the 'zine.
MettleAngel: Now every Tom, Harry, Dick, have a metal site. Wendy and I are striving for something so dramatically different. We want to go against the grain, and upset the applecart! In our hearts, we strive for excellence. We have 'hired' quality and knowledgeable writers who volunteer their passions to honour all things Metal. hopefully, when your new album comes out, we can review it for "Mettle Milieu"!
MettleAngel: Your welcome! I'm grateful that we finally were able to do this! We wish you all the best, and keep it true!
Related links: