Interview conducted September 02 2007
Interview published January 18 2008
Degradead has recently finished recording their debut album in IF Studios - as the first band ever. This has created quite a buzz around the five young guys from Huddinge outside of Stockholm, who with their music managed to impress members from In Flames so much that they decided to produce Degradead's first album. Metal Covenant couldn't afford to miss the opportunity to sit down with Kenneth Helgesson (drums) and Michel Bärzén (bass) from the band that everybody will most likely talk about in a few years.

Niklas: Have you had a good time so far on this event?
Michel: It's been really fun. We've been seeing a lot o people, like booking agencies and record companies and such. It's the first time we're here on Swedish Metal Expo, so it's been really interesting.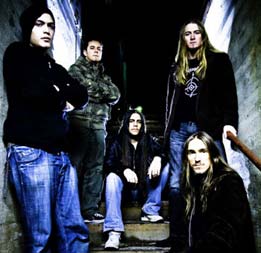 Niklas: Can you tell our readers who don't know about Degradead who you guys are?
Kenneth: I would describe us as a metal band that plays death/thrash, with a lot of melodies. It's fast, hard and heavy at the same time. We have been around since 2004 with the members that are in the band now.

Niklas: For a long time your band name was Septima, but you were recently forced to change that due to right issues. How did it feel to give that up?

Kenneth: It was really tough, actually. Many people had started to know about Septima over the years. So it was tough in a way, but at the same time it was a boost for us, to start anew with everything. It has been both negative and positive, but mostly positive, I think. And the fans haven't had much trouble to gather that we have just changed our band name.

Niklas: You have just finished recording your debut album in Gothenburg - In Flames' new studio to be precise. You were the first band ever to record there. How was it possible to begin with?
Kenneth: It's all about having the right connections, really. That's how it all works. We've had a blast doing the album; it's been really fun. It's still difficult to realize that we have actually done all this.

Niklas: Take us through the whole recording process. How was it working with the legends in In Flames?
Michel: It was really exciting, because they had so many suggestions and ideas that we had never thought of. It was cool to get an insight in how they work. It's great because IF Studios consists of three smaller studios, so three of us could record at the same time, each with an own member of In Flames that helped us. (Kenneth:) It's great because initially all of us had firm ideas about how the songs should sound, and after spending some time there we started hearing the songs with new ears. (Michel:) We also tuned our guitars down to C, which made a huge different to our sound. All in all, it was a wonderful experience.
Niklas: Is there a big difference between the songs as they are now from when you only had demo versions of them? Have you added and removed much?
Michel: We have done both. The greatest difference is the singing, I think. It's much clearer than before, and there are more background vocals and such. (Kenneth:) In one song we even decided to add another chorus, because we felt that we needed one. We never really saw it this way before, because we have always felt that when we have written a song - it is done. Not anymore though.
Niklas: If you were to pick one song from the album that you feel extra pleased with, which one would it be?
Michel: For me that would have to be Genetic Waste, hands down. (Kenneth:) I love that one too, probably because that's the newest song. But I also have to mention Burned, which has always been very thrashy and fast, but it has grown extremely much in the studio. That's easily one of my favourites.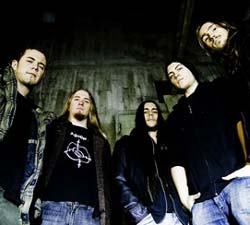 Niklas: Was it hard choosing among your material to find the ten songs that finally were recorded for the album?
Kenneth: It was really difficult at first when we had to write down a list for the songs to record, but at the same time it felt like the five of us agreed on which songs to choose. It's a bit scary since this is our first album and it means a lot of pressure, but I'm happy they way it went.
Niklas: In just a few hours you are going to perform here on Swedish Metal Expo. How would you describe yourself as a live act?
Niklas: There are many new Swedish bands inspired by the Gothenburg-sound these days, like for example Avatar and Sonic Syndicate that performed here yesterday. How do you think Degradead stand out from the rest?
Kenneth: We in the band practically only listen to hard rock, and I've never heard a band that sounds like us. I know that this is what all bands say, but it's actually true. Sure, we have bits of Gothenburg-metal in us, but that's definitely not all there is. We have our own ideas in our sound as well, and I really think that we stand out.
Niklas: If you could only recommend one single Degradead-song to people who have never heard you - which one would it be?
Niklas: What will Degradead be doing during the upcoming months?
Niklas: Any last words to the fans?

See also: review of the gig the same night »»
Related links: