Interview conducted July 07 2010
Interview published July 18 2010
I, myself, grew up in San Diego, I have been a big fan of Cage for over a decade. After I saw them perform at Warriors Of Metal III last month, it was an honour to befriend the Iron Priest himself - Sean Robert Livingston Peck. I already knew Norm "The Legend" Leggio, as in the late '80s and all throughout the '90s he ran an awesome Rock driven Record store called Blue Meannie.
I was also blessed with the pure ecstasy of seeing them the night after in Cleveland with Eternal Legacy as the opener. This time with the wife, I thereby enjoyed another amazing show. Afterwards, Sean and I made plans to do an interview. Thus, last week I called the darker than black Hell Destroyer, and we discussed the strange power that feeds us all...METAL!

MettleAngel: Hey Brother, I am very honoured that you agreed to do this interview. I know how busy you are, so thank you for taking the time to talk the smack about Metal!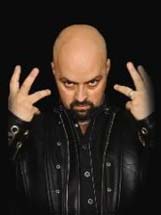 MettleAngel: No, I write everything down, so I will represent you honestly that way.
Sean: Dude you are hardcore. After meeting you, and discovering that you are a fan, that you have reviewed every album, and that you are from Coronado, San Diego, it is so cool to get to know you better.
MettleAngel: Yeah, I have followed your career from the late '90s, even though I know you formed in '92. Denis Gulbey of Sentinel Steel introduced me to 'Astrology'. If you recall I saw you live at Kalamazoo in 2001.
Sean: Man, that was a crazy show. That dude was losing serious money. We had just arrived from the airport, and were crashing in our hotel beds, when we got the call that we had better play, or they would be shutting the venue down.
MettleAngel: Brad Youngblood was naive' as to how to run a Metal Fest, but he sure did have an amazing line-up for that show! I actually bought 'Unveiled' off a friend who did not like you back then, but now he is a big fan.
Sean: That is cool! I imagine that Datis lost his shirt with WOM III, but we were very happy to play that festival. Apparently, once we were confirmed for this festival, the phones began to ring, and the show took off from there.
MettleAngel: I was at WOM II, last year, so this year was a marked improvement. I was amazed that you played at 3 a.m., and you gave it your all.
Sean: Yeah, we were happy to be there, and we always want to put on a good show, we are very professional about this.
MettleAngel: It was kind of surreal, as I saw you Saturday night at 3 a.m., and I was dead tired, then I saw you again Sunday night in Cleveland at 8 p.m. Technically you played two shows in one day.
Sean: Like with Kalamazoo, in the true Cage fashion, we play with zero sleep. You know I still have some songs from that Kalamazoo show. When we released some digital music to our fans, this was some of the material.
MettleAngel: Tell me about those digital releases.
MettleAngel: Dave Garcia gave me a Crusher demo at that show.
MettleAngel: Is that material still available?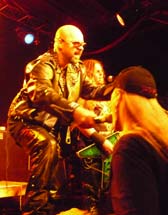 MettleAngel: I would be interested in hearing the Kalamazoo show songs, since I was there. I think I have some footage from you on VHS. Brad sent me a comp. featuring live material from several bands like Omen, Exciter, Hades, Anvil, Abattoir, Agent Steel, etc.
MettleAngel: So tell me how you got Norm from Psychotic Waltz into the band. I will never forget when he told me all about that rare End Amen CD with members of Deathrow, Tankard, and himself on drums. I now have an actual CD copy of this!
Sean: Norm and I have been friends for years. Back in the day we would call each other up and talk metal. Mike Nielsen just left the band when we were ready to fire him. He was just dealing with way too much drama. We all have drama in life, and metal is like our escape or break from reality.
MettleAngel: I agree...
Sean: Well, his reality became more important than the band, and we understand. Believe me, if I can no longer take your drama, and you piss me off, then it is time to leave the band.
MettleAngel: So his personal life just became a priority?
Sean: I kept him in and tolerated his madness, then we were all fed up, and knew it was time for him to go.
MettleAngel: Then this is when you asked Norm to join?
MettleAngel: Like you have with your new guitarist Garrett Peters who recently replaced Anthony Wayne McGinnis?
MettleAngel: I really thought Garrett did an excellent job live. It is just a shame that he does not know the older material as well, which is why you did not play "Secrets Of Fatima".
MettleAngel: Did you have anyone famous in mind?
MettleAngel: Kenny Earl "Rhino" Edwards just released a new album with his band Angels Of Babylon, featuring none other than David Ellefson on bass. The music reminds me of Masterplan.
Sean: Cool! We also had some die hard drummers from Brazil who desperately wanted to join the band. They were ready to fly up and relocate. Bobby Jarzombek was also a consideration. Finally Norm just called and asked me, "When do I start?", and that was it.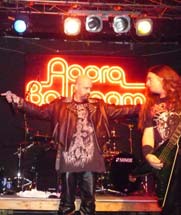 MettleAngel: I guess that was the end of Blue Meannie Records too?
Sean: We now use that space in El Cajon for rehearsal. So much for all my visions of grandeur, but Norm is an insane drummer, and a true perfectionist. he is spot on with his timing. He quickly learned four or five new songs, and just nailed it.
MettleAngel: Watching him play live was very entertaining. I also had a chance to talk to him and chat about the past.
Sean: Hiring him was by far the best decision we ever made. He really knows and works on his craft with such precision. Mike was all skill, but with Norm he just knows drumming. he can identify a Slayer, Dimmu Borgir, or Exodus note right away. With him it is just entirely a different approach to drumming.
MettleAngel: This is evidenced in all the bands he has played in, over the many years. You can really tell it is him on 'Science Of Annihilation'.
Sean: Exactly! When we write songs, Norm is super meticulous. He was the perfect choice for our song writing direction on 'Science'. The newer material in progress is just insane for me vocally, and for Norm's drumming antics.
MettleAngel: You debuted a new song at the shows called "War Of The Undead". I could tell you were giving your voice a real work out. Tell me about adding Steve Brogden to bass. I was very impressed with his live performance, and his backing vocal capabilities.
Sean: Once again, we wanted to dispense with the drama. Mike Giordano and Mike Nielsen had been in the band for almost ten years. Mike G. was dealing with family and health issues. We had been working with Steve on both guitar and bass. He was a smooth transition.
MettleAngel: He seems to fit the niche.
MettleAngel: I noticed this when I first met him, and told him about my experience with the band.
Sean: With Cage, it is absolutely vital that we all have a tight friendship, even over and above the music. With us the "Bro Factor" is what makes a solid band.
MettleAngel: So you are True Brothers of Metal!
Sean: Definitely! I just spoke with Anthony Wayne McGinnis last week. We are still close friends. When we replaced him with Garrett, we knew we were heading in the right direction. He is the first guy I wanted. He may be young, but he writes great leads, and learns the material fast.
MettleAngel: I am pleased to hear that.
MettleAngel: He sure did tear it up live on stage, both nights. His and Steve's backing vocals really added to the overall feel and vibe of your singing.
Sean: Backing vocals are very important to us. They are key to our performance. We pride ourselves on having some of the best backing vocals in the genre. Garrett has really stepped up, and begun to incorporate his vocal harmonies.
MettleAngel: With your incredible vocal capabilities, the backing vocals made a difference in a live setting. Dude your vocal vicissitudes and facial expressions are just insane!
MettleAngel: I was so enthralled watching all your facial expressions, and mannerisms, up close and personal. You do not just have the chops, but your stage presence is so spectacular.
MettleAngel: Honestly, I have never seen anything like it! I know the lyrics, and the music, but you animate the song and take it to a whole new level. This is why I convinced my wife to see you in Cleveland; since she missed you at WOM III, beinig utterly exhausted.
Sean: I work hard on achieving the face and hand gestures. I want to tell a story like what is going on with the little children of "Black River Falls".
MettleAngel: You do this kind of technique like King Diamond does, even on the song "King Diamond". Speaking of "Black River Falls", which is a great song, you tend to be inspired by the same conspiracy material as Minnesota's horror legends Impaler, who also have a song called "Chupacabra".
MettleAngel: I have learned so much about certain subjects by reading Cage lyrics. Take a song like "Die Glocke". When I reviewed 'SOA' last year, I had no idea what this song was about, so I did my research.
Sean: Is it not so cool to find out about these things! Nothing is more metal than Nazis and UFOs, and for the real followers, I even allude to serum 25.
MettleAngel: This is why when you sing live it makes an impression. Dude, aside from the clothes you wear on stage, you are the new Halford or Geoff Tate.
MettleAngel: Oh, how the mighty have fallen, even Bruce does not sound too great on the new Maiden single. I will have to wait until I see them live to see if he can still cut it, but watching Halford perform live is a sad venture.
Sean: I hear this, but people say it is his age. I think back to the Turbo Tour, and he was in prime vocal standard. If I am 43, then I am about the same age he was then.
MettleAngel: Well, you are probably thinking more of the Painkiller Tour or like "Operation Rock And Roll" with Alice Cooper, Metal Church, Motörhead, Dangerous Toys, etc., but I get your point.
Sean: If I want to be one of the world's best Power Metal vocalists, I have to work hard at it. I feel great, and I am pushing myself even harder than ever before.
MettleAngel: This is why you are such an amazing vocalist. I told this to Ralph Scheepers, as you are both bookends, with Tim "Ripper" Owens right in the middle.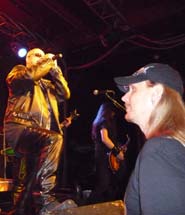 MettleAngel: I agree, and your presence on stage is astounding, as is your vocal verisimilitude.
MettleAngel: Sadly this has all but faded from his live performance, and do not get me started on his choice of clothing, well, him and Rob Halford!
Sean: It is my job to be the ringmaster and captivate the audience. This is the secret to my success. I noticed that at the Cleveland show once we came out and did our thing, everyone became fixed into place, and did not move for the whole performance.
MettleAngel: They more than likely did not know what to expect. Many of those with whom I spoke, had only heard you on the "Metal On Metal Radio Show out of Cleveland. I know that afterward the audience and opening act - Eternal Legacy - were thoroughly impressed.
Sean: This reminds me of a show we played in Europe, in Switzerland There was this one fan who commented that when we came on he had to take a wicked piss, but stayed for our whole set, so he would not miss a beat. He had seen 200 shows, but nothing like what we delivered.
MettleAngel: My wife was blown away too, as she had only heard the music, and did not know what to expect, save from my constant bragging about the band, and what she had missed. I was reliving the WOM III performance, Sunday morning with your various visage orientations, and your killer countenance, when I informed her about what she missed.
MettleAngel: Ultimately, yes! I am not sure if she saw you at Kalamazoo, or not. By the time you hit the stage there, she was obliterated with lack of sleep from that too. It was her first real Metalfest. We had attended an all night metal party with all the bands, and we were all blitzed come Sunday morning.
Sean: I remember hearing about that notorious party. Your grasp of my vocal antics is what continues to inspire me to create better songs, and push my vocals to new limits. I do not know how older bands can claim to forget the lyrics to their songs. Once you do this for a living, it becomes almost second nature.
MettleAngel: It is like with anything, sometimes as you get older, you tend to forget. This is why thankfully there is gingko biloba.
MettleAngel: I am also amazed how on cue you can thrust a microphone in my face to sing the chorus, and before I can take a breath, you have pulled it back, and moved on to the next verse. Your timing is impeccable!
MettleAngel: That is interesting that you should mention that, because I know a lot of people who consider you to be a Christian band.
Sean: In our personal life we are Christians, but when it comes to the music and lyrics, it is more about the triumph of the light over the darkness.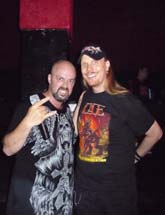 MettleAngel: This is what I thought. I knew you were not too preachy. I too see it as more of a dualistic approach.
Sean: With the Christian argument we can never win, we are either too extreme for the Christians, or too Christian for the non-believers.
MettleAngel: I know the frustration, as the same thing happens to Stryper or As I Lay Dying. You seem very down to earth to me. This is more like how Chris Jericho views life and metal.
MettleAngel: I am sure a song like "King Diamond" got the fundamental Christian's panties in a bunch.
Sean: The funny thing about that, is this is the first song we wrote, before the 'Hell Destroyer' concept. We were not even sure it would become a bonus track. Then the backward message, "Hail mighty Satan, bring us to Armageddon...", really got us in deep shit. People heard that and did not link it to the concept, and our goose was cooked.
MettleAngel: This is like Nicko's backwards message "Don't mess wif tings you do not understand!" before Iron Maiden's "Still Life" on side B. The whole backmasking thing is overblown.
Sean: It all becomes political, and I try not to write about politics. I do not mess with that sappy poetic stuff either. I have a gnarly political mind, and I can go toe to toe, but this is not appropriate for Cage.
MettleAngel: I agree...
MettleAngel: Man, both of those songs are killer cuts from 'Astrology'!
MettleAngel: The new material sounds very promising. What would you say is your overall impression with how WOM III came out?
Sean: We had a blast! We did not mind playing at 3 a.m.. We gave it our all, and we knew that the crowd was exhausted; especially, after the threat of a major storm.
MettleAngel: Yeah, the lightning storm delayed things even more. By the time Aska hit the stage, even George Call's vocals were depleted from talking to fans and bands all day.
Sean: I will say this, overall our feeling of WOM III is very positive. I am pleased to support it, and I tell people what they missed. I leave positive feedback on My Space and Facebook. Datis, Leah, and Ryan are fully committed.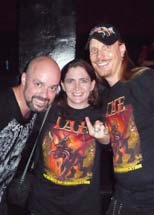 MettleAngel: I have given them my constructive criticism as well, weighing the pros and cons.
Sean: We all appreciate what they did for us. What is there not to love? Sure they have to iron a few things out, but with the bells and whistles, the guitar shred fest, the camping, the diehard metal fans, the dogs, what can I say, but this was just awesome!
MettleAngel: I know they are already planning IV, so any feedback you can give them is appreciated. They will be grateful for this interview too.
MettleAngel: It is really a shame because my best friend from Kentucky had his heart set on seeing you at WOM III. Then, unexpectedly, his friend decided to get married that weekend, and compelled him to become his best man. Believe me, he would have rather gone to WOM III and seen Cage.
MettleAngel: I will let him know. If you play WOM IV, I know he will not miss you again!
Sean: Well, we will see what happens. Well Brother, it has been real, but I do have to run. The wife does not always want me talking the metal smack.
MettleAngel: Man, I am always talking Metal with my wife, and now I am getting her involved in the interview process even more; so, she is really stepping up and getting some cool bands with whom to chat.
MettleAngel: I am still planning a live review for Cleveland, but I will be swamped with interview requests over the next few weeks, so bear with me. I will contact you once the
stuff is posted. I sure would love to hear some of that Kalamazoo music.
Sean: Cool, contact me, and send me a link, and I will try to dig some of that up for you. All the best brother, got to run.
Related links: