Interview conducted August 29 2010
Interview published September 03 2010
Accept are about to release their first studio albums in over 14 years in the US, called - 'Blood Of The Nations'. This highly anticipated comeback is produced by Andy Sneap, and it is the first album to feature TT Quick vocalist Mark Tornillo.
I celebrated the luxury of conversing recently with founding member, main song writer, and mainstay musician - Wolf Hoffmann. I was feeling a bit restless at first, but I put my wild balls to the wall , and overruled my objections; knowing I would not break or bend. With alacrity and sincerity, I spoke from my mettle heart to this Classic Metal mastermind. When it comes to a band like Accept, there are no substitutes!
Enjoy this doggerel metal screed, an esurient for the new world comin', as I still stand gawping, realizing that I spoke with such a key metal figure - a true midnight mover. For soon I will see him live as the rolling thunder of Accept continue to beat the bastards down!

MettleAngel: Hey there Wolf, I am so excited to be speaking with you! Accept are one of my three top bands ever, right after Maiden and Priest, but before Rush!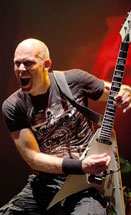 MettleAngel: Absolutely! I have been a fan ever since I first heard 'Restless And Wild'. One of the very first tapes I purchased was 'Balls To The Wall'. I still recall hearing "Son Of A Bitch" being played on the radio.
MettleAngel: Actually, they did, and "Princess Of The Dawn" too. I will never forget when I first saw the video for "Midnight Mover"! I spoke with Udo Dirkschneider last year and we discussed the Accept reunion.
MettleAngel: No, he was real cool about the whole thing....
Wolf: Well, it is a known fact that we wanted him back to record a new album, just like with the festival reunion, a few years back.
MettleAngel: I am aware of this, but he is so busy with his band U.D.O. His only real concern was that he wishes you would change the name to Restless And Wild, like the late, great Dio did with Heaven & Hell.
MettleAngel: I understand, as Accept is the more recognizable name. I actually first saw Accept with Dio in 1986 on the Sacred Heart Tour. You were touring for my favourite album - 'Russian Roulette".
MettleAngel: That summer was so memorable for me, as I also saw Metallica play with Ozzy only days before Cliff Burton was killed. I see that the new album is doing very well in the charts, so congratulations.
MettleAngel: I feel that it is a very solid album. I recently spoke with Ralph Scheepers and Mat Sinner and I told them that the new Accept sounds like Primal Fear and Sinner.
MettleAngel: Sure, and they were impressed, since they are obviously so influenced by Accept. I only have one TT Quick cassette, and nothing on CD, yet. How did you get Mark to sing for the band?
MettleAngel: You mean he did not have to audition?
Wolf: Not at all, he just showed up for a show played some songs, and we knew he was the perfect choice for our new vocalist. He lives close by, so we were able to work with him very easily.
MettleAngel: I actually liked David Reece's performance on 'Eat The Heat'.
MettleAngel: I know that Udo liked the songs on 'Eat The Heat'. He was especially fond of "Generation Clash", which explains why you wrote a sequel when he rejoined. On one of the Accept Tributes, he covers "X-T-C".
MettleAngel: He felt that Mark was to much of a copycat of his style, but I disagree. Mark sounds more like Bon Scott, and Jason McMaster from Watchtower, Dangerous Toys, and Broken Teeth.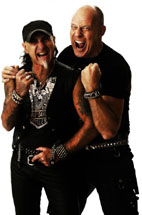 MettleAngel: Just like David helped take Accept to the next level with 'Eat the Heat', Mark's vocal performance on 'Blood Of The Nations' is quite exceptional. He really brings the songs to life. Did you plan to write an album which is totally Accept, but again slightly experimental?
Wolf: It never starts out that way. We just work very hard in the studio to create a solid album. Andy Sneap really helped us to achieve a standout sound. Everytime I would come up with a riff, he would tweak it a bit, invoking some of the earlier Accept vibes.
MettleAngel: So, at the heart of it all you still want to create a record which would be recognizable as Accept.
Wolf: I never listen to the older stuff. I am always trying new things. Even back in the day when we wrote a song like "Fast As A Shark" or "Princess Of The Dawn", they were all happy accidents. We did not set out to write a certain song, in a certain way.
MettleAngel: "Fast As A Shark" was perhaps the first ever Speed Metal anthem.
Wolf: Oh I agree, but we did not enter the studio with this intention, same when the three of us, myself, Peter Baltes, and Stefan Schwarzmann began to make music, we just let the ideas flow, and Andy solidified the meaning. Every one expects us to write another 'Metal Heart' or Ball to The Wall II'.
MettleAngel: You however wanted to write an album that came from your mettle hearts, right?
Wolf: When we entered the studio, nothing was ever planned out. We just took each song as it came along. We strove to be objective, and play the songs we felt would soon become Accept classics.
MettleAngel: Your first single for 'The Abyss' proved this with the killer cut "Teutonic Terror", which was accompanied by an excellent video whetting our appetites for the amazing album to come.
MettleAngel: Oh yes many times! As soon as I received a podcast digital promo, I burned it and have been playing it non-stop. My buddy Mark Gromen of BW&BK was able to see you live at the sold out New York show this summer. I read his song by song commentary, and he actually played a few samples for us at Warriors Of Metal III.
MettleAngel: Well, so am I! I understand that you are very influenced by Classical Music. This is evident by the intro on 'Metal Heart', as well as the song "Pomp And Circumstance", by Elgar, off the 'Death Row' album.
MettleAngel: You have released one Classical album where you take on the great composers like Tchaikovsky, Mozart, Bizet, Beethoven, Grieg, etc. Are you primarily influenced by this type of music? I have this and it is quite different from Accept, more like what Alex Masi has done, or The Great Kat.
Wolf: Actually, I only recently began to work on Classical albums. I have another new release eventually coming out, it is complete, and in the can. Accept is my priority. I do not pretend to be that great of a guitarist, but I do like to play the music of these Masters.
MettleAngel: Who are you kidding! You are an awesome guitarist! You have created so many easily recognizable trademark Metal riffs, like "London Leather Boys", "Monsterman", "Breaker", "Slaves To Metal", "Losers And Winners", and Guns 'R' Us"!
Wolf: Yes, this is to be sure, but it was those Classical Composers who essentially laid the foundation for what we now call Heavy Metal.
MettleAngel: I agree, and even the subculture of those times finds its way back into the Mettle Milieu in newer forms. It was bands like Zeppelin, Deep Purple, and Rainbow who took their cue from such a great period of music, and thus set the mettle precedent. I also understand that you are a famous photographer.
Wolf: Yes, I have made a living off this since about 1996. It is my second career, and my second passion. I have taken some great pictures over the years, and worked in advertising corporate structures.
MettleAngel: Well, you have the right appearance for having one foot in both camps.
MettleAngel: You do not have long hair either. I know one of your more reknown depictions is the cover art of 'Objection Overruled', which features Peter's hands bound behind his back, what else have you done?
Wolf: Well, my most recent work would be the cover for 'Blood Of The Nations', which also features Peter's hand.
MettleAngel: Oh Wow, I was not aware! That is a rather simple cover with the bloody peace fingers making the rabbit shadow puppet.
Wolf: Yes, but that it what we wanted. I set out to create a cover which held an underlying message, yet one which would also standout in its simplicity.
MettleAngel: Everyone will be able to identify with this cover, for sure. Tell me how you were able to persuade Herman Frank to play on the new album. He released a killer solo album last year called 'Loyal To None' with Jiotis Parcharidis from Euroforce singing.
Wolf: We have had Herman ever since we reunited in 2005. It has always been Peter, Stefan and I who write the music in the studio. We always add an additional guitarist for touring, but we are the key songwriters.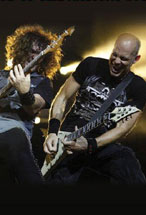 MettleAngel: This explains why when I saw you tour for 'Death Row', you were the only guitarist. You did such a fantastic job on that album, and definitely, 'Objection Overrruled'. I am still glad that Herman is playing on the album, and will tour with you. Whatever happened to Jörg Fischer?
MettleAngel: That is too bad! I know you are married to Gaby "Deaffy" Hauke. She wrote some crazy lyrics back in the '80s, like with the sexual content of "Head Over Heals", or "Turn Me On".
MettleAngel: Essentially there was nothing wrong with her lyrics, it is just she wrote these songs from a female perspective and Udo sang them, which confused us all as to his sexual orientation. We all knew Rob Halford was gay, and could care less; but some of those amazing Accept songs still make me cringe when I read the lyrics. Hell, "London Leatherboys" is about gay bikers.
Wolf: As I said we wrote the music, and she wrote all the lyrics. we never really thought too much about the words until we wrote 'Metal Heart'.
MettleAngel: 'Russian Roulette' is still your crowning masterpiece, both musically and lyrically! I really do love the new album, and I am telling everyone about it. I look forward to seeing you in Cleveland live in October with Kings X.
MettleAngel: I know you will impress a great deal of fans with the pre-show coming up at Prog. Power. I have met Peter before, but I sure hope to meet you in person and continue this conversation. I know we are out of time.
MettleAngel: I sure hope you will add some 'Russian Roulette' cuts into the set like "Aiming High", and "TV War".
MettleAngel: Make sure you do not drop "Son Of A Bitch", or "Losers And Winners". As far as new material, how about "Beat The Bastards", "Pandemic", as well as "Teutonic Terror", those all would be awesome!
Wolf: Alright, I will take these into consideration, I have got to run, see you this fall!
MettleAngel: Well, since I am a rebel, you can bet on it!
Related links:

www.acceptworldwide.com
www.myspace.com/accepttheband